A Reconciliation Book Study
By Michelle Parrish, Keewatin-Patricia DSB
​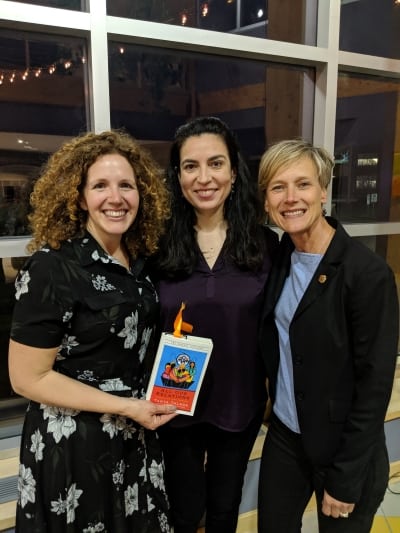 Photo Credit: Courtesy of Keewatin-Patricia DSB
(Left to Right) – Michelle Parrish (KPDSB Student Achievement Teacher), Tanya Talaga (award-winning journalist and author) and Tania Sterling (KPDSB Superintendent of Education).
What does it mean to involve all stakeholders in your board's response to the Truth and Reconciliation Commission Calls to Action? At the Keewatin-Patricia DSB (KPDSB), it meant inviting all employees to participate in a board-wide book study, offering an opportunity to learn, reflect and consider their own understanding of reconciliation.
Led by then-director Sean Monteith, employees were asked if they would like to join their colleagues in reading Canadian author Tanya Talaga's book, All Our Relations. Individual copies were purchased for each employee and participants were invited to take part in an evening book study, contribute their learning via social media platforms and share their thoughts through posed online questions.
Readers had two unique opportunities to meet with their fellow book study colleagues. First, the school board hosted four group discussions by geographic area. These evening gatherings were hosted at local restaurants where readers gathered to discuss the ideas in a non-academic setting. This relaxed, collegial atmosphere created an opportunity to freely examine one's own perceptions while learning from your colleagues. As the book study drew to a close, we were honoured to welcome the author, Tanya Talaga to an event in Dryden, Ontario. With readers gathered from throughout the school board, Talaga shared her thoughts and participated in a question and answer forum. Seeing employees from all sectors gathered together was a highlight of the book study as it emphasized the shared responsibility and collective efforts of working towards reconciliation.
With more than 200 participants from all employee groups, KPDSB noted how individual staff members brought both a learning and sharing commitment. Open, honest conversations took place throughout the three months and many participants spoke of impromptu discussions that were spurred through their participation in the book study. Because all employee groups were represented, these conversations occurred between early childhood educators, administrators, educators, custodial staff, administrative assistants, office staff and the board's senior administration staff. Reflecting on the experience, our readers provided positive feedback, but this reflection encompassed both the goals of the book study and the emerging thoughts of all our readers' as the book study drew to a close:
If a subject is thought-provoking enough to inspire consideration, there is a significant chance that the road ahead is unclear. Reconciliation stirs up emotion and makes a person re-evaluate his or her beliefs. It makes them question what has gotten them to this point, and how from here, they will move forward. Sometimes it is difficult, for even the most genuine and thoughtful people, to examine and understand their feelings of guilt, anger, or apathy. For some, it is a struggle to identify the role that they will play, or without even realizing, the role that they currently play in finding the way forward. I believe we as educators are all looking for a solution, a better way, the right way. A way that will support all of the students and families that we love and support. For those who are open to finding a better way, "All Our Relations" has allowed us a snapshot into a haunting past. It has allowed the reader an opportunity for introspection. It challenges our community as educators to continue on our path forward, together.