KPR's Mandatory Grade 11 English Course in Contemporary Indigenous Voices
By Judy Suga Malfara, Kawartha Pine Ridge DSB
​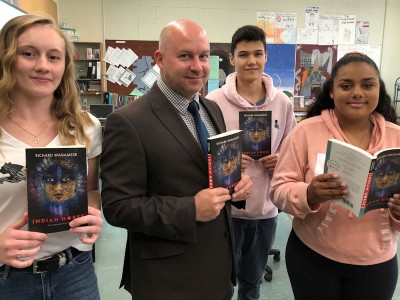 Photo Credit: Courtesy of Kawartha Pine Ridge DSB
All Kawartha Pine Ridge District School Board (KPR) secondary students will be learning about, and from, Indigenous authors starting this school year.
Board-wide implementation of the mandatory Grade 11 Contemporary Indigenous Voices course was announced last spring at a joint meeting of the board's Indigenous Education Advisory Committee and Director's Indigenous Student Advisory Group. The course is now the compulsory Grade 11 English credit for students at all KPR high schools, after being piloted with great success last year at Thomas A. Stewart Secondary School in Peterborough.
"This mandatory course builds on our continuous commitment to educate all of our students about Indigenous peoples, as well as their rich contributions, cultures and ways of knowing," says Diane Lloyd, Chairperson of the Board. "It also helps to ensure that our Indigenous students see themselves reflected in the course materials they are studying."
"The course includes writing by First Nation, Métis and Inuit authors," Director of Education Dr. Jennifer Leclerc explains. "It is truly gratifying that, when we offered expansion of the course to all of our secondary schools, every single principal stepped forward to say this is the right thing to do."
Teachers implementing the course also have access to new resources including cultural competency training, ongoing professional development, supportive visits from the Board's Indigenous Education Consultants, and outstanding literature by contemporary Indigenous authors. And what an impressive list of authors it is. Teachers have a choice of books by authors as diverse as Cherie Dimaline, Dawn Dumont, Drew Hayden Taylor (himself a KPR alum), Tommy Orange, David A. Robertson, Eden Robinson, Tanya Talaga, Katherena Vermette and Richard Wagamese.
The mandatory Grade 11 course is just one of many changes being implemented Board-wide to incorporate Indigenous history, culture and perspectives into all grades, for all students. Every KPR elementary and secondary school's improvement plan for 2019-20 will, for the third consecutive year, include at least one Indigenous Education focus.