STEM/Culture Collide at Outdoor Camp
By Karen Smith, Limestone DSB
​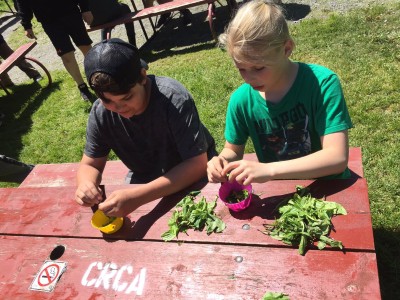 Photo Credit: Courtesy of Limestone DSB
During three days in June, Self-Identified First Nations, Métis, and Inuit Grade 5 to 7 students in the Limestone DSB participated in a land-based STEM (Science, Technology, Engineering, Math) and cultural camp at Gould Lake Conservation Area.
Staff from Queen's' Aboriginal Access to Engineering facilitated the STEM-based teachings. Gould Lake staff, local traditional Knowledge Keepers, and Limestone teachers facilitated the cultural and land-based teachings.
​

Photo Credit: Courtesy of Limestone DSB
"This unique camp was designed to play a role in supporting the development of cultural identity and social well-being for all as well as fostering leadership and a sense of community," says Gillianne Mundell, Limestone's Indigenous Education and Reconciliation Lead. "Students discovered that Science, Technology, Engineering and Math is embedded in Indigenous culture and knowledge."
Land-based teaching provided the focus for Day 1. Students participated in STEM habitat and structure activities and created commitment strings around a fire. Day 2 focused on Traditional medicines where students learned about the four sacred medicines. Students made a plantain salve using plantain from Gould Lake and hiked and canoed around Gould Lake. Day 3 focused on water teachings. Students participated in STEM water purification activities and, again, spent time canoeing on Gould Lake.
"Connecting to the outdoors naturally engaged the students and proved the concept that kids learn better when they're involved directly with experiences on the land," says Mundell. "It is our goal to continue these important experiential learning opportunities for our Indigenous students."