Indigenous Culture Day at Haliburton Highlands Secondary School
By Sinead Fegan
​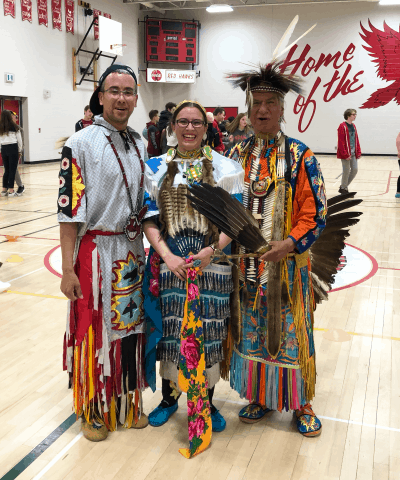 Photo Credit: Courtesy of Trillium Lakelands DSB
On May 13, students from Stuart Baker Elementary School, JD Hodgson Elementary School, and Haliburton Highlands Secondary School (HHSS) participated in an Indigenous Culture Day. With nearly 600 students in attendance, the hope for the day was to share with students the beauty and diversity of Indigenous cultures through dance and music.
The day-long event took place at HHSS and split students into two groups. Each group had the honour of watching three Indigenous dancers perform a traditional style of dance. All of the dancers regularly perform and sing at Pow Wow celebrations across Turtle Island (North America).
Dancer Dave Rice is Potawatomi from Wasauksing First Nation. He is a Knowledge Keeper and traditional dancer who has been dancing for over 20 years. He began dancing at eight years old in a small dance group in the community, which was started by a member of the Wheatley family. Waas Pegahmagabow is a Potawatomi and Ojibwe Grass dancer and is also from Wasauksing First Nation. He is a Knowledge Keeper, member of the Caribou Clan, and has been dancing since the age of four. Waas is a drummer and singer who has been playing for over 15 years on a men's Big Drum, and has also played the hand drum for many moons. Dancer Nancy Pawis is Ojibwe from Wasauksing First Nation and a member of the Fish Clan. She is a Jingle Dress dancer and has been dancing for over 10 years. She is also an amazing singer who often provides backup for her partner Waas' group around the Big Drum and on a hand drum as well.
Throughout the presentations students were able to participate and learn how to dance in the traditional style with the dancers. It was a beautiful performance and students went home that day having learned about Indigenous culture in both an interactive and engaging way.