Akwesasne Students Receive Entrepreneurship Completion Bonuses
By Jodie Hall, UCDSB
​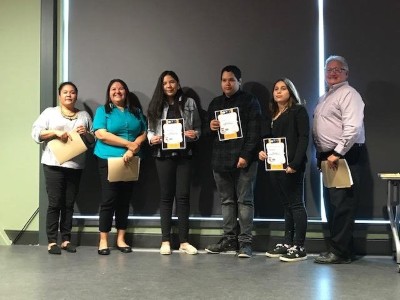 Photo Credit: Courtesy of Upper Canada DSB
On Friday, April 18, 15 Akwesasne students from Cornwall Collegiate & Vocational School and TR Leger School of Adult, Alternative & Continuing Education pitched their business plans at A:kweks Aotsi'nahkwa (Eagle's Nest), an Upper Canada District School Board (UCDSB) and Akwesasne Area Management Board (AAMB) joint spin-off of the popular CBC show Dragons' Den.
At the Eagle's Nest, teams of students pitched their ideas to a panel of judges from AAMB for financial investment. Each team was awarded a completion bonus that ranged from $50 to $500 per team member that will be used as seed money to launch their business.
A planning session was held in late-February and Akwesasne mentors supported the students over the past six weeks as they developed their business plans and worked on their pitches. The ideas ranged from a drumming group, a greenhouse market, making and selling baskets, opening a local restaurant and arts consignment shop, to wraps for food that is a solution to plastic.
"We are very proud of our students who pitched incredibly innovative business ideas, many of them reflective of Haudenosaunee culture and traditions," said Gail Brant-Terry, UCDSB Principal of Indigenous Education Programs. "We are thankful for our partnership with AAMB, as well as our mentors and judges who supported our students at the event."
AAMB supports Akwesasne members through employment and training initiatives. The intent of this event was to introduce students to entrepreneurship opportunities in their community.
Video Credit: Courtesy of Upper Canada DSB