Yes They Can! Coding Event Focuses on Empowering Girls
​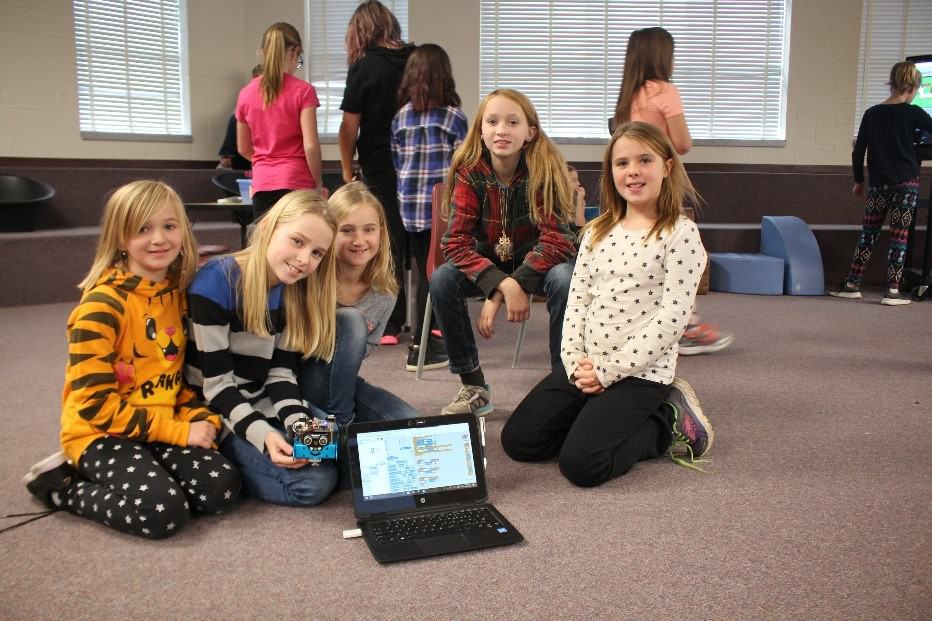 Photo Credit: Courtesy of GEDSB
"The great thing about coding is that when you make a mistake, it means you're trying," says Joe Archer, grade 5/6 teacher at Lakewood Elementary School in Port Dover, to a group of nearly 50 female students from the school's junior grades taking part in Girls Can Code. "Making mistakes just means you're learning."
Each student in the group is about to disperse into one of several coding stations set up in Lakewood's Learning Commons. There are robots awaiting directional instructions via a tablet, music that can be composed by programming lines of code, and games such as Minecraft.
"Who's ready to make some mistakes?!" asks Archer to an enthusiast response.
The stations provide a range of coding activities for students with little to no experience as well as those with more advanced experience in programming, something an increasing number of teachers like Archer are including in lessons spanning the curriculum. Over the course of the day, girls from Kindergarten to Grade 8 will have the opportunity to explore this modern-day 'language.' They work in small groups or on their own as they try their hand at coding in a supportive, encouraging environment.
The event is part of Computer Coding Week, which took place in December, and by focusing on female students only, it hopes to level the playing field in the still male-dominated fields of computer sciences and technology. The only rule is to be comfortable making those mistakes Archer mentioned – something many young female students typically try to avoid.
"We know that girls often aim for perfection, and that if they don't feel they can succeed at something, they won't even attempt it," says Cynthia Gozzard, Grand Erie's ED Tech Itinerant Teacher. She describes female students in math class erasing all their work to avoid showing errors in their process of finding a solution. "With coding, though, mistakes are an important, inevitable part of the process – if you erase all of your lines of code, you have to start again from scratch, so it encourages you to think differently."
For Archer, who is a Digital Lead Learner in Grand Erie and a Microsoft Certified Educator, the motivation for starting this unique event is also personal.
"I have twin girls who are in Senior Kindergarten, and I want to show them that there are endless possibilities open to them if they try," he says. "This kind of learning builds resiliency because it teaches you how to celebrate the setbacks, bounce back from them, and apply that way of thinking to so many other areas."
David Van Laecke, principal at Lakewood Elementary, sees the event as invaluable to building a growth mindset, and essential to empowering female students to take more risks.
"The keyword is 'yet.' It's not that you can't do something, it's that you can't do it yet," he says. "You can see that mindset in action today as it builds competencies related to the 21st century."
Technology is an important part of Grand Erie's Multi-Year Plan, and its increasing use in classrooms provides many students with a point of entry to other subject areas they find intimidating initially. It's this accessibility and instant engagement that helps meet the goal of success for every student.
Meanwhile at Lakewood, one of the coding stations spills out into the centre of the Learning Commons as a group of grade 5 students program "Bob," a little robot who is now making his way across the room.
"Mr. Archer programmed the code so that we can control Bob using a keyboard, and he understands what we're asking him," says grade 5 student Addison Elkin. "It's hard to do it, but it's also like magic!"