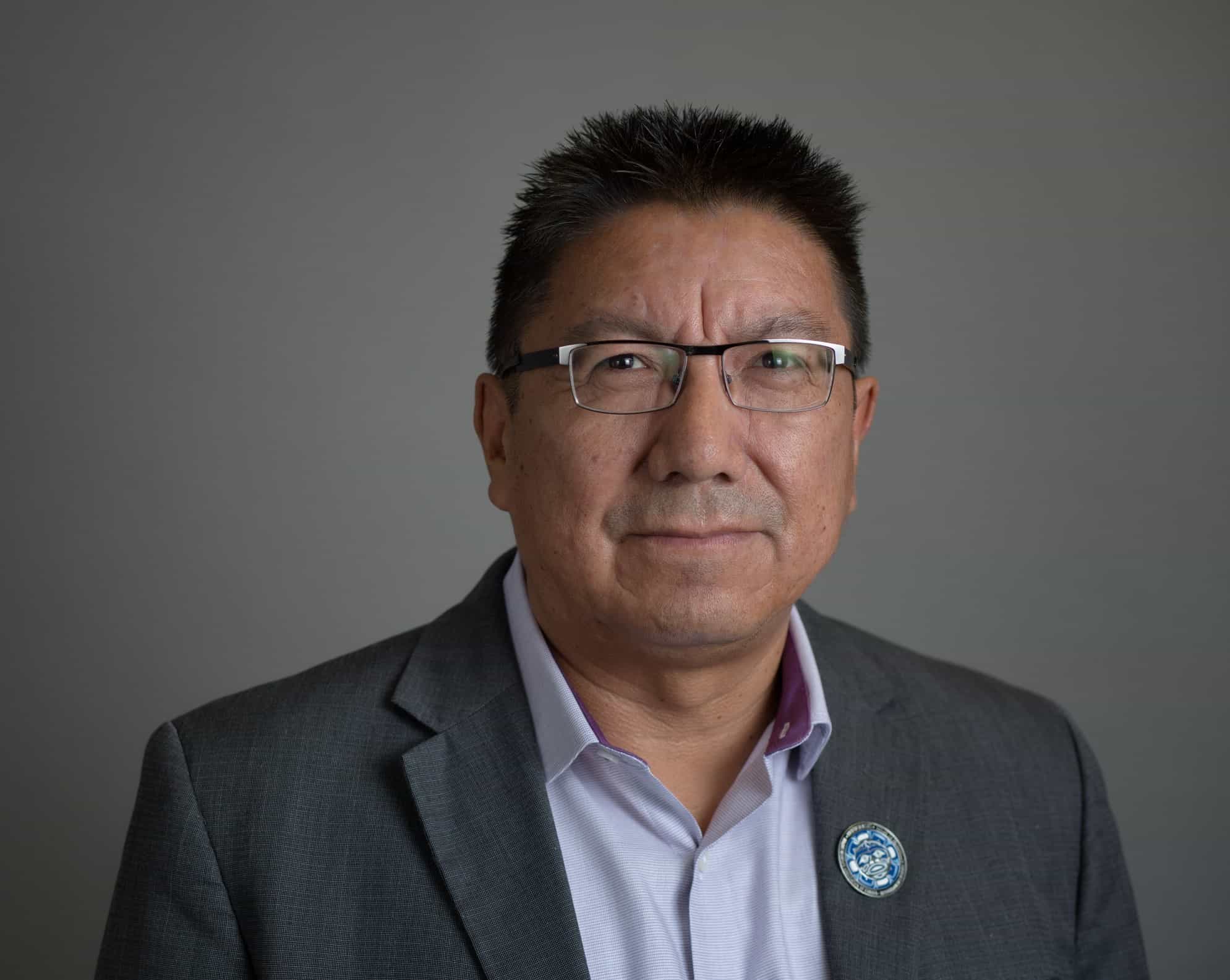 Photo Credit: Nishnawbe Aski Nation
An Interview with Alvin Fiddler, Grand Chief of the Nishnawbe Aski Nation
Grand Chief Alvin Fiddler was born in Sioux Lookout and raised in Muskrat Dam First Nation. He left his community at age 13 to attend high school in Sioux Lookout and Thunder Bay, and studied business management at the University of Lethbridge.
In the early 1990s Alvin helped his family establish a fishing and hunting camp in their traditional territory in Two Rivers. From 1990-1993 he served as the first Executive Director of the Tommy Beardy Memorial Family Treatment Centre in Muskrat Dam, a residential program for substance abusers and their families.
Alvin served as Deputy Chief of Muskrat Dam from 1993-1998. He served as Health Director at Nishnawbe Aski Nation from 1998 until his election to the Executive Council in 2003. He served consecutive terms as Deputy Grand Chief before joining the Truth and Reconciliation Commission as Manager of Regional and Ontario Regional Liaisons in 2010. He was elected Deputy Grand Chief again in 2012 and Grand Chief in 2015.
Alvin has led justice initiatives including the Ipperwash, Goudge and Kashechewan inquests, and the joint inquest into the deaths of seven NAN youth in Thunder Bay. He co-chaired the Debwewin Jury Review Implementation Committee for the implementation of the recommendations from the Hon. Frank Iacobucci's report on First Nations representation on Ontario juries.
Alvin's father Moses witnessed the signing of the Treaty No. 9 adhesion in Kitchenuhmaykoosib Inninuwug in 1929. He maintains the belief of the Elders that we never surrendered our jurisdiction over the land.
He lives in Thunder Bay with his wife Tesa and daughters Lynette and Allison.
ET: You were raised in Muskrat Dam First Nation in Ontario's north and attended high school off-reserve in Sioux Lookout and Thunder Bay. That firsthand experience as a student and your wealth of leadership roles in the past three decades leads us to ask the following: What can Ontario school boards do to better support the transitions for Indigenous students who are attending public school in an urban area for the first time?
AF: Education is the key to success for our youth. There are many opportunities for school boards across the province to provide support for Indigenous students. These support systems must begin before the students leave their communities to attend school. This transitional support can start with teachers travelling up north as an education partnership to meet students in their Grade 8 classrooms. This will allow students to have the chance to see a familiar face when they begin the school year in urban centres. Also, better student orientation at the beginning of the school year will ensure that students who need additional support are identified. School boards can offer courses and culturally relevant content as well as resources in common curriculum to allow Indigenous students to recognize similarities in themselves and in the content as they learn. With this to be achieved, all levels of administration, including board members and trustees, need to be educated on Indigenous matters.
ET: As the Grand Chief of the Nishnawbe Aski Nation, representing thousands of school age children and youth, and acknowledging the history and legacy of colonialism and residential schools, why is it important that these topics be taught in Canadian schools to both Indigenous and non-Indigenous students?
AF: There are many misconceptions about Indigenous people that are formed because of miseducation. In Ontario, it is mandatory for students to learn about the colonial past of Canada, through history and social studies curriculum, beginning in Grades 4 to 8 and again in grade 10. When students learn about the history of Canada, it addresses racism, which is a good start; however, more needs to be done to ensure that all students, both Indigenous and non-Indigenous, are being taught the history of colonialism and the intergenerational effects of Residential Schools throughout their educational journey.
ET: Where is Indigenous Education working? What are some of the success stories you've seen and how could they be replicated in First Nation communities and elsewhere across the country?
AF: Within Indigenous education, there has been an increasing emphasis to reconnect with our traditional teachings and learning approaches. This method is essential to our Indigenous learners as they are immersed in their culture and languages within their learning environments; both at home and in school.
One of the key approaches our communities have used since time immemorial, is holding the Land as the first teacher. Students are learning about their ancestral traditional territories, their history and making connections to homelands.
Success is evident when our students are immersed and/or participating in events, practices and learning environments that are conducive to their whole being.
School boards are becoming more open to change and consulting with appropriate Indigenous channels. There has been a movement to create more culturally safe spaces within schools to embrace Indigenous culture. Good work is being done by school boards across the province and in particular, in Thunder Bay, both the public and Catholic school boards are focusing on Indigenous cultural safety.
ET: The current reality for many First Nations communities across Canada is a lack of modern medical and school facilities and failing water security, among other issues. How do systemic issues like these affect the overall education success and well-being of Indigenous children?
AF: Our community members that live on-reserve have suffered longstanding inequities. Indigenous youth are born into hardships that were created by years of colonialism and neglectful Treaty partners. Students are preoccupied with how to access the basic needs of everyday life that other youth may take for granted. For example, the funding formulas provide schools on-reserve with one-third less than provincial schools. There are multiple gaps and barriers in the systems that are in place to protect our children, especially the education system. From this, it is difficult for our students to focus on their schoolwork because they are dealing with sub-par conditions. The faults in these systems must be addressed in order to transform them into community-led initiatives. Despite the odds being against Indigenous children, they are resilient; graduation rates are rising and many students want to go back to their First Nations after they graduate to be of service.
ET: What message do you want readers to take away about the future of education for Indigenous students in this country?
AF: It is important to remember that kids do not fail, it is the system that fails the kids. By not teaching the history of Indigenous peoples in this country, it fails both Indigenous and non-Indigenous students. School boards need to understand that there is a difference between equality and equity. We need to look at educational transformation across all boards to provide equitable opportunities for Indigenous students. With that being said, there are amazing initiatives being rolled out in schools that include student engagement. Student voices are being heard and they are becoming leaders in their own education.