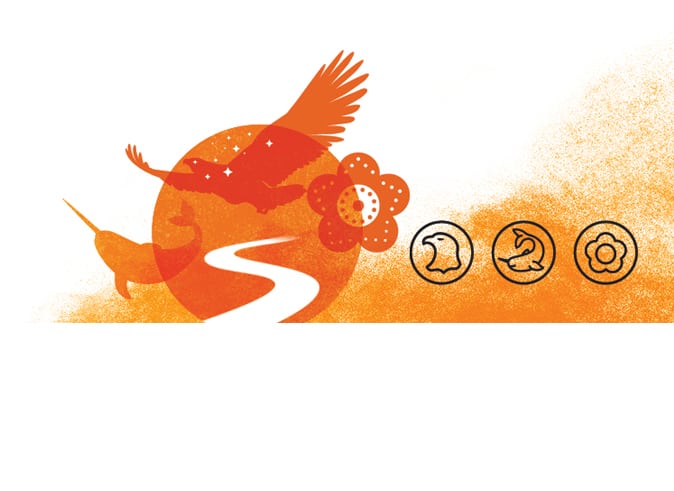 September 30, 2021, marks the first National Day for Truth and Reconciliation.
The creation of this federal statutory holiday was through legislative amendments made by the Parliament of Canada. On June 3, 2021, Bill C-5, An Act to amend the Bills of Exchange Act, the Interpretation Act and the Canada Labour Code (National Day for Truth and Reconciliation) received Royal Assent. This was done in response to Truth and Reconciliation Call to Action 80, which states that the federal government will work with Indigenous people to establish a statutory day to "honour Survivors, their families, and communities, and ensure that public commemoration of the history and legacy of residential schools remains a vital component of the reconciliation process".
September 30 has been marked as Orange Shirt Day since 2013. Orange Shirt Day is an Indigenous-led grassroots commemorative day that honours the children who survived Indian Residential Schools and remembers those who did not. This day relates to the experience of Phyllis Webstad, a Northern Secwpemc (Shuswap) from the Stswecem'c Xgat'tem First Nation, on her first day of school, where she arrived dressed in a new orange shirt, which was taken from her. It is now a symbol of the stripping away of culture, freedom and self-esteem experienced by Indigenous children over generations. We join in encouraging all Canadians to wear orange to raise awareness of the very tragic legacy of residential schools, and to honour the thousands of survivors.
On this day, schools and school boards across Ontario, including students, staff, and school communities, will be commemorating the tragic history and ongoing legacy of residential schools, which more than 150,000 First Nations, Métis, and Inuit children were forced to attend between the 1870s and 1997.
Some of the activities and initiatives occurring at OPSBA member boards are included below:
Algoma DSB
The Algoma DSB will take time to honour this special day and all it stands for with many schools beginning the day with a Morning Land Acknowledgement and a moment of silence. Schools and other board buildings will fly their flags at half-mast for the week. The board is encouraging students and staff, especially those in Grade 5 to 12, to access virtual presentations being offered all week by the National Centre for Truth & Reconciliation. On a local level, the board has a virtual presentation from Dolly Syrette, a grandmother, author, and residential school survivor from Batchewana First Nation available to students. Orange bracelets will be made available to staff and students for purchase by donation. All proceeds will go to the Children of Shingwauk Alumni Association who we continue to collaborate with, supporting truth and reconciliation actions and activities.
Avon Maitland DSB
At the Avon Maitland DSB, schools and teachers are choosing their own activities. The board's Indigenous Education lead has facilitated the purchase of orange shirts (and orange wrist bands) for staff through authentic sources, sent out book resources to schools, and created a digital resource site to support educators in discussions about residential schools, National Truth and Reconciliation Week, the National Day for Truth and Reconciliation, and Orange Shirt Day. The board's social media accounts will also be posting daily Orange Shirt Day and National Day for Truth and Reconciliation content, directing people to national resources and information.
Bluewater DSB
National flags are being lowered at Bluewater DSB schools and worksites, while students and staff wear orange and broaden their learning in honour of residential school victims and survivors. The occasion is the culmination of a week of Truth and Reconciliation themed activities in Bluewater, which have focused on initiating crucial conversations and awareness on Indigenous history and culture in Canada, and the detrimental impact of residential schools. To lead off the itinerary, several employee groups attended an anti-racism/anti-discrimination themed live virtual presentation with Dr. Niigaan Sinclair during the September 24 professional activity day.  An assistant professor at the University of Manitoba and renowned commentator and writer on Indigenous issues, Dr. Sinclair addressed the collective responsibility of all members of our education system to leverage our influence and power to educate, and how to be an ally. For more on Bluewater activities, please visit their website.
DSB Ontario North East
The Every Child Matters flag is being flown at every DSB Ontario North East school and workplace throughout the month of September, as a way to honour every child who never returned home from residential schools, survivors and their families.
Grand Erie DSB
In preparation for this week, Grand Erie's Indigenous Education team has curated and packaged kits containing books, lesson plans and other resources to enhance classroom learning. The age-appropriate contents cover topics such as Missing and Murdered Indigenous Women and Girls, Treaty rights, environmental teachings, "Rock Your Mocs" activities, as well as resources to highlight days of significance during the school year. A new cultural kit will be distributed each month to schools across the district. In classrooms, integrating the histories and achievements of First Nations, Métis and Inuit peoples remains a priority. A mandatory Grade 11 English course focused on Indigenous authors is in its third year. A widely offered Grade 10 course, First Nations, Métis, and Inuit in Canada, conveys the dynamic and diverse histories of Indigenous peoples to inform critical thinking of current issues and events. Grand Erie students and staff will be wearing orange on September 30, and participating in events such Orange Shirt Day walk-a-thons aimed at raising awareness and fostering discussion. Soon, the board will begin a public consultation process looking into renaming Ryerson Heights Elementary School in west Brantford, to formally recognize that the legacy of Egerton Ryerson does not align with Grand Erie values.
Halton DSB
The Halton DSB and individual schools will be honouring this important day with a number of acknowledgments and learning opportunities, in addition to lowering the Canadian flag at all schools and Board offices. Resources have been shared with staff leading up to September 30 and will be a part of ongoing learning throughout the school year. In many classrooms, a week of learning is planned for students and staff, which has included resources from the National Centre for Truth and Reconciliation.  Curtis Ennis, Director of Education, has shared a Curtis Ennis video message​ for the National Day for Truth and Reconciliation.
Hastings and Prince Edward DSB
Several resources have been shared with schools to support and enhance learning about reconciliation, residential schools and colonial policies: 
interactive Google Slides for elementary and secondary schools;

pedagogical considerations for teaching about residential schools;

webinars to engage in dialogue about approaches to talking about residential schools with students;

access to the Nelson Professional learning series to enhance educator awareness, understanding and capacity to engage students in reconciliatory learning experiences;

daily links to learning opportunities by The National Centre for Truth and Reconciliation;

Orange Shirt Day promotion;

radio ads for community awareness about the National Day for Truth and Reconciliation;

internal communications to HPEDSB staff reflecting the importance of making meaningful time on September 30 to promote awareness and engage in the critical conversations and work needed to work together towards reconciliation;

provision of mental health resources to students or staff in need of support as these important conversations and truths come forward; and 

consultation with the Indigenous Education Advisory Committee.
Kawartha Pine Ridge DSB
Kawartha Pine Ridge DSB schools and administration have invited students and staff to wear orange on September 30. More importantly, however, schools will be using this solemn day to teach about the harm caused by the residential school system, to honour residential school survivors and their families, and to remember the children who never returned home. As part of preparing for the day, schools have also received resources to help address difficult emotions that may arise during discussions about residential schools.
Rainbow DSB
In Rainbow Schools, the National Day for Truth and Reconciliation reaffirms and reinforces the importance of the "Truth and Reconciliation: A Commitment to Action" plan adopted by Rainbow District School Board. The plan is dedicated to the former students of Canada's residential school experience – the Survivors. This includes the many men and women, the Elders – including those who have passed into the Spirit World – whose traditional territory we now call home. Rainbow Schools will observe a moment of silence to honour the Indigenous children who did not return home from residential schools and will play an honour/drum song recorded by Bryden Gwiss Kiwenzie who is from the Indigenous Anishinaabe community in Sudbury. He will be singing the Unity Song with the Grandmother Hand Drum. Bryden was nominated for the Best Hand Drum Album of the year at the 2017 Indigenous Music Awards and he has been performing with traditional drum circles since childhood. For more, click here.
Rainy River DSB
At the Rainy River DSB, on September 30, each class from Kindergarten to Grade 8 will receive a story to read and lessons to support an age appropriate conversation about the National Day of Truth and Reconciliation and why we wear orange shirts. In addition, each school has been asked to create a display in the library showcasing the resources available to students and teachers around the topics of Residential Schools and Every Child Matters. Some schools have also signed up to take the Taking IT Global Orange Shirt Day virtual sessions. Finally, RRDSB purchased orange shirts, with a specially designed image on it, for all staff and students.
Superior-Greenstone DSB
Throughout the month of September, Superior-Greenstone DSB will formally demonstrate its continued commitment to focusing on truth and reconciliation.  The school board will be providing students and staff with the opportunity to engage in activities that connect culture to well-being.  In addition to these activities and leading up to September 30, the National Day for Truth and Reconciliation, each of their schools will raise the "Every Child Matters" flag. During the week of September 20, the school board observed a "Week of Well-Being" centred on activities for students to make connections in their return to school.  Most of the activities that were hosted were through an Indigenous lens and focused on mental health. Throughout the week of September 27, the school board has partnered with Dilico Anishinabek Family Care services who will be providing speakers each morning who will present various educational topics, leading up to the National Day for Truth and Reconciliation.  These virtual presentations will be open to all.
Toronto DSB
On September 22, the TDSB announced that its Urban Indigenous Education Centre (UIEC), with guidance from the Elders Council, would be opening the Boyne Natural Science School as an Indigenous Land-Based Learning site. Trustees unanimously supported the initiative during that evening's Regular Board Meeting. This site is located on 308.5 acres of the Niagara Escarpment, adjacent to the Bruce Trail and the Boyne River Provincial Park. Its reopening supports the Truth and Reconciliation Commission of Canada: Calls to Action and supports Indigenous Education on The Land for all students, staff and Indigenous communities. The Indigenous Land-Based Learning site, which will have one to two classes on location at a time, will feature programming that focuses on holistic Indigenous health and well-being (physical, intellectual, emotional, spiritual) in support of Indigenous student success. It will also include professional learning, community engagement, partnerships, curriculum resource development and innovation, research and development, and reconciliation through Indigenous perspectives.
Upper Canada
The Upper Canada DSB has long recognized Orange Shirt Day as a Special Recognition Day. The board's schools honour the day and use it as an opportunity to have discussions, awareness and learning opportunities with students about residential schools and Indigenous culture and history. The board will continue with recognizing Orange Shirt Day as well as opening up further discussion about the National Day for Truth and Reconciliation. Here's what the board has planned to commemorate the day:
The Upper Canada District School Board has the day listed as a Special Recognition Day
All staff have it in their calendars for awareness and schools will be promoting wearing orange that day.
All flags will be flown at half-mast that day.
Providing two virtual learning opportunities for students to listen to Christy Jordan-Fenton, author of Fatty Legs: A True Story and When I Was Eight. The UCDSB also has an online Learning Commons which includes a comprehensive collection of authentic, vetted resources to support our educators and their students in introducing this topic into the classroom.
More information about the UCDSB's Indigenous Education programming is available at http://www.ucdsb.on.ca/programs___initiatives/school_programs_k-12/indigenous_studies.
Waterloo DSB
The Waterloo Region DSB will acknowledge the National Day for Truth and Reconciliation and Orange Shirt Day at the Education Centre and in schools. In order to recognize the importance of Truth and Reconciliation Week and Orange Shirt Day, the board will be lowering flags starting on September 27. Flags will remain lowered until the end of day on October 4, which is the National Day of Action for Missing and Murdered Indigenous Women and Girls. The board's website will share a resource for parents and families so they can have conversations with their children about what they are learning in school. The resource page will identify what is available for use by grade.  WRDSB social media channels will also acknowledge the National Day for Truth and Reconciliation and Orange Shirt Day and each staff member and educator has been encouraged to share activities and tag images using the hashtag #IndigenousWRDSB. Educators will also participate in several virtual events being hosted throughout the coming weeks.
York Region District School Board
In honour of the National Day for Truth and Reconciliation and Orange Shirt Day, the York Region District School Board (YRDSB) Indigenous Education Team in association with Indigenous community held a memorial titled: "Binoojiinyag Mikwendaamowin Giizhigad- Day For Remembering Children ᐊᐱᓄᒋᐣᐦᔭᐠ ᒥᑵᐣᑕᒧᐏᐣ ᑭᔑᑲᐟ" to honour the victims and survivors of residential schools. This memorial was available to students and staff of YRDSB. Over 4,100 staff and classrooms attended. To support teachers in teaching about this important topic, Indigenous staff also prepared Orange Shirt Day Resources for grades K-12 in both French and English that took a scaffolded approach to teaching students about Orange Shirt Day. The memorial included the renewed land acknowledgement which was worked on over the course of last school year by the YRDSB Indigenous Education team and Indigenous Community, which included members of the Indigenous Education Advisory Council and the Chippewas of Georgina Island First Nation. The renewed Land Acknowledgement focuses on the First Nations who signed the treaties that cover our board in order to support students and staff in their knowledge of our region's specific relationship with Indigenous people.
Additional Resources
OPSBA's work on Advancing Reconciliation
APTN's full day of National Day for Truth and Reconciliation programming
CBC's National Day for Truth and Reconciliation Primetime Broadcast