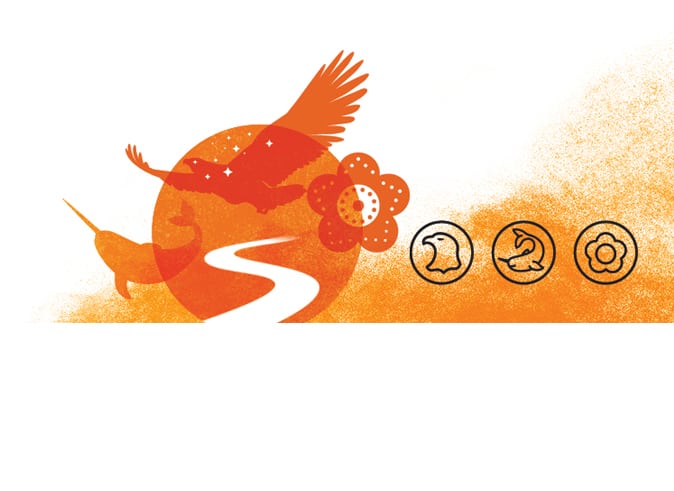 September 30, 2022, marks the second National Day for Truth and Reconciliation.
The creation of this federal statutory holiday was through legislative amendments made by the Parliament of Canada. On June 3, 2021, Bill C-5, An Act to amend the Bills of Exchange Act, the Interpretation Act and the Canada Labour Code (National Day for Truth and Reconciliation) received Royal Assent. This was done in response to Truth and Reconciliation Call to Action 80, which states that the federal government will work with Indigenous people to establish a statutory day to "honour Survivors, their families, and communities, and ensure that public commemoration of the history and legacy of residential schools remains a vital component of the reconciliation process."
September 30 has been marked as Orange Shirt Day since 2013. Orange Shirt Day is an Indigenous-led grassroots commemorative day that honours the children who survived Indian Residential Schools and remembers those who did not. This day relates to the experience of Phyllis Webstad, a Northern Secwpemc (Shuswap) from the Stswecem'c Xgat'tem First Nation, on her first day of school, where she arrived dressed in a new orange shirt, which was taken from her. It is now a symbol of the stripping away of culture, freedom and self-esteem experienced by Indigenous children over generations. We join in encouraging all Canadians to wear orange to raise awareness of the very tragic legacy of residential schools, and to honour the thousands of survivors.
We honour First Nations, Métis, and Inuit children and communities impacted by this system. During Truth and Reconciliation Week, September 26 to 30, we encourage schools to participate in events offered by the National Centre for Truth and Reconciliation. On September 30, and throughout the preceding week, schools and school boards across Ontario, including students, staff, and school communities, will be commemorating the tragic history and ongoing legacy of residential schools, which more than 150,000 First Nations, Métis, and Inuit children were forced to attend between the 1870s and 1997.
The education sector has a critical role to play in Truth and Reconciliation. Educators have the opportunity to build knowledge and shape an understanding of the lasting impact of the Indian Residential School system. Nurturing overall awareness and appreciation for Indigenous histories, knowledge, perspectives and contributions is essential to reconciliation.
Many school boards have already begun this work by developing collaborative relationships with their Indigenous Education Councils, implementing Truth and Reconciliation Action Plans and/or Indigenous Education Strategic Plans, as well as incorporating Truth and Reconciliation actions into their Board Action Plans.
School boards and school authorities are honouring the Week in different ways, including the following:
Avon Maitland DSB
In order to support the acknowledgement of National Day for Truth and Reconciliation, the AMDSB Indigenous Education Lead has provided each division with a list of resources and activities to support educating students about residential schools and/or the 60s Scoop. In addition, funding is being provided and schools are strongly encouraged to invite local Elders and Knowledge Keepers to speak with students about residential schools, the 60s Scoop, and other subjects directly related to Indigenous culture. This will enable the voices of Indigenous peoples themselves to be amplified. As Indigenous leaders often say, "Nothing about us without us." A variety of authentic sources for orange shirts, wrist bands, etc. were also provided. Finally, staff were informed of cultural safety so that they understand this trauma-informed approach, the goal of which is to provide a respectful stance and recognition of power imbalances, with environments free of racism and discrimination where people from all cultural backgrounds feel safe and supported. It was noted that Indigenous students participating in September 30 activities may experience traumatic and emotional reactions to conversations and content leaving them feeling unsafe. Staff are being encouraged to consider speaking to students and families ahead of the lesson or activity to discuss how the content may affect students. Educators are encouraged to provide class time for reflection to discuss, process and be together as a classroom community, and most importantly, check back with students who may be vulnerable and follow up with Student Services if appropriate and needed. Resources and information will also be shared with families via social media.
Greater Essex County DSB
The GECDSB will illustrate its commitment to this occasion by raising Every Child Matters flags at its schools for the full week. On September 26, there will be a flag raising ceremony at the GECDSB administrative building. This will include Director of Education, Erin Kelly and members of the board's Indigenous Education Advisory Committee. The GECDSB has also shared educational resources with staff for classroom learning so that all students will be able to understand and appreciate the meaning, purpose and significance of reconciliation.
Lakehead DSB
Schools within Lakehead District School Board are committed to reconciliation and exemplify this dedication in their respective ways every day in the classroom, and especially during Truth and Reconciliation Week. This year, however, to honour the National Day for Truth and Reconciliation, all LDSB school communities have been invited to come together in a united partaking of the local initiative Honouring our Children: Reconciliation Run in Support of Mazinaajim Children's Foundation. Students, families, and staff can run, walk, roll, or stroll around the city's Boulevard Lake alongside community members, businesses, and organizations who all have the cooperative goal of recognizing truth and reconciliation in Canada and harmonizing Northwestern Ontario. Immense participation and support from innumerable community members and organizations is predicted at the event. All proceeds from the event will be directed to Mazinaajim Children's Foundation to support Anishinabek children and families with a focus on fostering happiness and well-being.
DSB Ontario North East
This National Truth and Reconciliation week, District School Board Ontario East (DSB1) will be educating our staff and students by participating in opportunities that embrace and demonstrate the beauty of Indigenous culture as well as reflecting on the history and legacy of the residential school system. Students have the opportunity to learn by attending a local Pow Wow, listening to guest speakers, Knowledge Keepers, and Elders, land-based learning, sharing circles, and student led memorial creations. On September 30, we will wear our orange shirts to remind us of Phyllis Webstad, the children, families, and communities that were impacted by residential schools. We also wear our orange shirts to remind us of the work we must participate in as we continue our journey towards reconciliation. DSB1 is committed to taking action to effectively support students who self-identify as Indigenous. Students can learn about culture, heritage, and language through vast experiences. DSB1 offers land-based learning opportunities, student leadership trips to Onakawana, Cree and Algonquin language classes and partners with local Friendship Centre's and community agencies to bring cultural teachings into the classroom.
Thames Valley DSB
Students and staff across Thames Valley are participating in some very important discussions and learning about the Canadian Residential School system and the lasting impact it has had on Indigenous families and communities. The Indigenous Education Portfolio has developed a variety of age-appropriate resources and lesson plans to support learning about Orange Shirt Day. In addition, the Indigenous Education Portfolio is providing a professional learning session for educators regarding Orange Shirt Day.  Many schools have developed programming where students of all ages are able to learn, reflect and become more sensitive to the injustices that members of the Indigenous community have endured.  All Thames Valley schools are honouring the survivors of Residential Schools and those who did not make it home – not just on September 30 (the National Day for Truth and Reconciliation) but throughout the entire year. To acknowledge Orange Shirt Day, all TVDSB schools will: 
Lower flags to half-mast on September 30

Change school signs to read "

Orange Shirt Day – September 30" or "Orange Shirt Day – September 30, Every Child Matters"; and

On or prior to September 26

, send a message to families through School Messenger that staff and students will be honouring Orange Shirt Day on September 30.
In addition to the lessons being taught in our classrooms, we will distribute an educational series for our students, staff, families, and community members to learn more about Orange Shirt Day and Residential Schools. Please visit our website to explore this series: www.tvdsb.ca/EveryChildMatters
Toronto DSB
Together the TDSB recognizes the legacy of Canada's residential school system and continues to learn the many truths of these institutions. The school board honours First Nations, Métis, and Inuit children and communities impacted by this system. During Truth and Reconciliation Week, September 26 to 30, the TDSB is encouraging schools to participate in events offered by the National Centre for Truth and Reconciliation and to visit the Urban Indigenous Education Centre's resource page for learning resources and events. Check out the National Day for Truth and Reconciliation poster with additional information here.
Trillium Lakelands DSB
From September 26 to 30, TLDSB will recognize Truth and Reconciliation Week through a number of initiatives that provides an opportunity to honour the legacy of residential schools, and to honour survivors, their families, and Indigenous communities. Each school has school and classroom-specific initiatives taking place as well.
Oak tree planting
On September 27, TLDSB and the Indigenous Education Advisory Committee, made up of Elders, Knowledge Holders, administrators, educators, parents/guardians, caregivers, and others will host an Oak Tree Planting Ceremony at 4 p.m. at the Lindsay Education Centre.
Orange Shirt Day
On September 29, everyone in TLDSB is asked to get involved in honouring all those who attended residential schools by wearing an orange shirt. Wearing an orange shirt throughout the year is also encouraged. Schools will also be invited to join a system-wide live-streamed event to participate in which local Elders and Knowledge Holders will share messages of truth, resiliency, and the importance of being part of reconciliation. Hosted at the Muskoka Education Centre, this live event will be streamed so that teachers can broadcast it in their classrooms and it will also be recorded so all students will have access to this valuable information throughout the day and in days to come.
National Day for Truth and Reconciliation
On September 30, the TLDSB community is encouraged to participate in community events.
Incorporating Truth and Reconciliation into the classroom
A number of resources and tools have been shared across the system to advance the learning during this week and beyond, including the Truth and Reconciliation Week national virtual event, Woodland Cultural Centre virtual tour, The Whole Truth About Residential Schools: Then and Now webinar series, and crisis lines for Indigenous students, families, and the wider Indigenous community.
The Indian Residential Schools Crisis Line 1-866-925-4419 is available 24-hours a day for anyone experiencing pain or distress as a result of their residential school experience. For more information on the program, please refer to the IRSS website and the FNHA website.
Upper Grand DSB
National Truth and Reconciliation Week is from September 26 to 30, 2022. Preparations for National Truth and Reconciliation Week began in June. Buttons designed by local Anishinaabe artist Naomi Smith alongside Indigenous youth were available for schools to order, with proceeds going to residential school survivor memorial project, Geronimo's Dream. Recognizing that some students may want an orange shirt, but may not have the means to purchase one, some orange shirts, purchased from an Indigenous maker by the Equity department, are being sent to each school. The newly designed NCTR Survivors flag will be up at both board offices. For educators, the Indigenous Education Department prepared a slide deck of vetted digital and in-school resources. The slide deck includes a brief historical context, recommended videos and books by division, and resources and opportunities for educators to learn more themselves. Teachers have been encouraged to register for the streamed sessions being offered by The National Centre for Truth and Reconciliation. Some schools are hosting their own information sessions to honour the day. Because we also want to create a special place for Indigenous youth this week, we have partnered with the Guelph Civic Museum and Naomi Smith for a special workshop for intermediate Indigenous youth, No Word for Art – Orange Shirt Day edition.
York Region DSB
On September 30, YRDSB is encouraging staff and students to wear an orange shirt on to recognize the resiliency, bravery and survivance of Residential School Survivors and those who did not come home. We encourage individuals to think about purchasing orange shirts ethically, where possible.  To facilitate conversations around the difficult topic of residential schools, some suggested activities and resources for all grade divisions have been prepared for educators in both English and French (intended for French Immersion). Additional external resources are also being shared with educators, including:
We will be encouraging staff, students and our broader community to review the Truth and Reconciliation Calls to Action and reports. It is important that we understand our responsibility as members of an education community and as treaty people to understand this history and the path forward to reconciliation. We will also be sharing a Tune In YRDSB podcast episode recorded during the last school year with Indigenous members of staff discussing the importance of Indigenous education, what it is, what it isn't and more. Through social media, we will also be sharing other resources created by the board, including learning from the Georgina Island First Nation powwow.  We will also continue our work throughout the year to increase accurate understanding of First Nations, Métis and Inuit cultures, histories and contemporary perspectives. This includes sharing professional learning opportunities and resources with staff members to continue this important work.
Additional Resources
OPSBA's work on Advancing Reconciliation
Education resources from the Canadian Centre for Diversity and Inclusion
The Canadian Government's Resources for the National Day for Truth and Reconciliation
Register for the National Centre for Truth and Reconciliation four-day series of events, workshops and lectures
Additionally, for the first time this year, the National Center for Truth and Reconciliation will be hosting a live event in Mississauga, the ancestral and treaty lands of the Mississaugas of the Credit First Nation, also recognized as land rich in pre-contact history that includes both the Anishinaabek and Onkwehon:we, and continues to become the home for many Indigenous and non-Indigenous peoples. The event will feature some of Turtle Island's best Indigenous performers to help students learn about Indigenous culture, languages, and traditions. School boards are invited to register for the live-stream or to access tickets for students to attend the event in-person visit: Gidinawendimin – We Are All Related 2022 – NCTR.
Please remember that content associated with the National Day for Truth and Reconciliation can be triggering for First Nation, Métis and Inuit students, families and communities. Access to mental health and well-being services should be integrated into planning and can include the sharing of the Indian Residential School Crisis line: 1-800-721-0066.