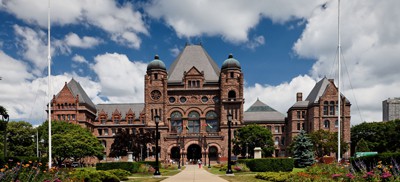 The Legislative Assembly of Ontario remains in session and has an upcoming constituency week beginning on April 18, 2022. Canada's Finance Minister Chrystia Freeland announced the federal government will table their spring budget on April 7, 2022. Ontario's budget is expected to be released three weeks later, on April 28 – just before the writ is expected to be dropped on May 4, 2022.
Current Legislation
Bill 106, Pandemic and Emergency Preparedness Act, 2022
This proposed legislation was introduced on March 29, 2022, by Treasury Board President Prabmeet Sarkaria. This bill would amend several pieces of legislation to implement the government's new preparedness plan for future public health emergencies.
Current Status: Referred to the Standing Committee on Finance and Economic Affairs (March 31, 2022).
Bill 88, Working for Workers Act, 2022
This proposed legislation was introduced on February 28, 2022, by Minister of Labour, Training and Skills Development Monte McNaughton. It contains five Schedules or changes to various Acts, including Schedule 2, Employment Standards Act, 2000. The bill will most likely come back to the House next week for Third Reading.
Current Status: Bill Consideration at the Standing Committee on Social Policy (March 31, 2022).
Other non-government bills which are still at committee with no public hearing dates announced include:
Education Funding: 2022-23 Technical Paper
The Technical Paper has been posted on the Ministry of Education's website along with a few other finance related memos, related to Special Education. The Technical Paper and the additional memos posted late on March 25, 2022 are listed below. OPSBA staff will connect with member boards about these recent memos and their impacts.
Information about Grade 9 and Elementary Mathematics Teacher Supports has also been released, including a ministry memo and an overview document that provides information about webinars and curriculum supports.
2022 Municipal and School Board Elections
The Ministry of Municipal Affairs and Housing (MAH) has posted municipal and school board elections guides for 2022 at www.ontario.ca/municipalelections. These include the:
2022 Voters' guide
2022 Candidates guide
2022 Guide for third party advertisers
OPSBA, through the Ontario Education Services Corporation (OESC), is close to finalizing the revised 2022 Candidate's Guide and the first of three public awareness posters. These will be distributed to all school boards via their staff dedicated to election work, to AMCTO (the municipal clerks' association) and a robust distribution list that includes equity-seeking groups. All resources and materials will be included in future updates and posted on the OPSBA website and the school board elections website. A coordinated communications plan, including social media and website content, will support these resources.
Two memos concerning the use of schools for election purposes have been released. One memo concerns the Chief Medical Officer of Health's Recommendations on Using Schools in Ontario for Election purposes and the other from the Deputy Minister refers to the Chief Medical Officer of Health's memo with his comments of no longer recommending "specific COVID-19 measures in the use of schools for election-related purposes."
SmartStart Hubs
The Ministry of Children, Community and Social Services (MCCSS) and the Ministry of Education (EDU), has announced the creation of "22 new SmartStart Hubs across the province to better connect parents and caregivers with child development services in their communities."  OPSBA will follow up with the Ministry of Education about how Children's Treatment Centres (and members of OPSBA) are beginning implementation in April.
See the following:
New Federal and Provincial Child Care Agreement
Prime Minister Justin Trudeau and Premier Doug Ford were joined by cabinet ministers and other speakers to announce the Ontario child care deal. The $13.2 billion agreement is expected to lower fees for families to an average of $10 a day child care by September 2025.
See the OPSBA news release.
Highlights of the deal include:
The flexibility to allocate federal funding in a way that will allow the province to deliver an average of $10 a day child care, including by spending the initial $10.2 billion over four years instead of five.
Protection against funding shortfalls through a mandated financial review process in year three to reconcile the actual costs of the new national child care plan with funding.
Reduction of child care fees through four steps of reduction to an average of $10 a day per child five years old and younger by September 2025.
Creation of approximately 86,000 new child care spaces for children five years old and younger.
Parent rebates, retroactive to April 1, will begin in May.
Protection of all for-profit and non-profit child care spaces.
Hiring new early childhood educators and support for improved compensation for all Registered Early Childhood Educators (RECEs) working in licensed child care.
As a first step, all Ontario families with children five years old and younger in participating licensed child care centres will see their fees reduced, up to 25%, to a minimum of $12 per day, retroactive to April 1, 2022. In December 2022, parents will see another reduction. In total, fees for families will be reduced in 2022, on average, by 50%. Families will see further fee reductions in September 2024, culminating in a final reduction to an average of $10-a-day child care by September 2025.
See the Ministry News Release and the Backgrounder.
Other News Releases and Information