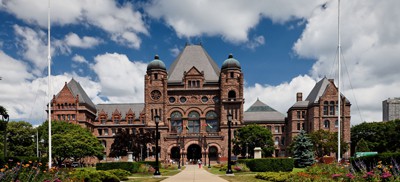 The Legislative Assembly of Ontario remains adjourned and is scheduled to resume on May 12, 2020. MPPs must do this every 28 days to renew the emergency declaration, and they will sit for a reduced Question Period that morning.
Cabinet has extended all emergency orders-in-council for another two weeks until at least May 6. That means non-essential businesses will remain shut, social gatherings must be kept to five people or less, and long-term care staff must stick to one facility. The Premier has stated in media reports that a provincial recovery plan is being shared with Cabinet and this may include information or an update on a revised return to school or class date. The education sector has not yet received official word on when and if school facilities will re-open before the end of the 2019-20 school year. Schools are currently closed until May 31, as Minister Lecce announced on April 26.
On April 20, the government released updated COVID-19 modelling, which showed that the COVID-19 outbreak has likely peaked in Ontario. However, Chief Medical Officer of Health Dr. David Williams said emergency measures would have to remain in place to continue reducing the number of cases and deaths.
OPSBA continues to attend and participate in the weekly teleconference with the Ministry of Education's Deputy Minister Nancy Naylor. OPSBA also connects weekly with the other school board/trustee associations.
The Deputy Minister has issued two memos:
The Ontario Teacher Candidates' Council is legally challenging the MPT.
Prime Minister Justin Trudeau has announced a new Canada Emergency Student Benefit (CESB) for post-secondary students, which would provide out-of-work students and new graduates with $1,250 per month from May to August. More information is provided in this federal backgrounder, Support for Students and Recent Graduates Impacted by COVID-19.
OPSBA has posted education-related Coronavirus – COVID-19 information on our website.
Collective Bargaining
On April 20, 2020, OPSBA announced that it had successfully negotiated a tentative agreement with Ontario Secondary School Teachers' Federation (OSSTF) teachers, and that OPSBA, the Council of Trustees' Associations, and the provincial government had reached a tentative agreement with OSSTF education workers. All parties will conduct ratification votes in the coming weeks.