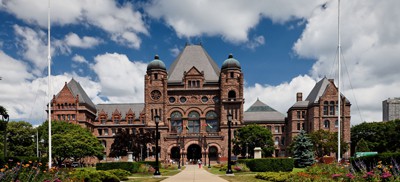 Members of Provincial Parliament returned to Queen's Park last week on July 6, 7 and 8. The current parliamentary calendar indicates sitting dates only for this week and next in July, with no dates scheduled for August, and MPPs returning on September 14, 2020.
This legislation was introduced on July 8, 2020, by Minister of Municipal Affairs and Housing Steve Clark. The omnibus bill includes changes to 20 Acts and is expected to pass this month. Included are changes to the Education Act, the Ontario Educational Communications Authority Act and the Ontario French-Language Educational Communications Authority Act. The Education Act changes can be found in Schedule 5 and these changes come into force when the bill receives Royal Assent. The changes regarding TVO/TFO can be found in Schedule 14 and Schedule 15 which will come into force on a date to be proclaimed. Minister Lecce has indicated that there would be consultations about this before any amendments are in place. The Ministry memo that was sent to school boards outlines the proposed changes. Many of these changes include additional regulation and policy work. OPSBA will be reviewing this legislation and preparing a response.
Current Status: First Reading
Government news release – Ontario Starting Down the Path to Growth, Renewal and Economic Recovery
Statement from OPBSA President Cathy Abraham
This legislation was introduced on July 7, 2020, by the Solicitor General, Sylvia Jones. The bill, if passed, continues the emergency orders currently in effect under the Emergency Management and Civil Protection Act for an initial 30 days. This would also allow the Lieutenant Governor in Council (Cabinet) to further extend these orders for up to 30 days at a time for up to one year after it is passed. Under current legislation, the province can only issue emergency orders while the state of emergency is in place, which are currently set to expire on July 22.
Current Status: First Reading
Government news release – Ontario Introduces Legislation to Protect Public Health as Economy Reopens
Anti-Racism Activities
On July 9, Minister of Education Stephen Lecce announced several anti-racism activities including, "ending Grade 9 streaming into applied and academic courses, proposing to eliminate discretionary suspensions for students, strengthening sanctions for teachers who engage in behaviour of a racist nature, and providing teachers with additional anti-racism and anti-discrimination training." The Minister also indicated professional development opportunities for school board trustees. OPSBA will follow up with the Ministry about next steps.
Ministry memo to school boards
Government news release – Ontario Taking Bold Action to Address Racism and Inequity in Schools
COVID-19 Update
On July 7, Leamington and Kingsville joined the rest of the province in moving to Stage 2 of the reopening plan. Minister of Health Christine Elliott said this week the government is looking to move the province into Stage 3 "as soon as we possibly can" but no specific dates were provided. More information is expected today, July 13, in the Premier's daily news conference. Stage 3 will further relax restrictions on public gatherings and opening of all workplaces, but mass gatherings like concerts and sporting events will not be happening "for the foreseeable future."
School Re-Opening Plans
School boards are continuing considerable work in planning three scenarios for this fall. During his weekly call with chairs, Minister Lecce said the ministry is working with the government's command table to ensure a full safe return and will give a clear direction about September plans in early August. OPSBA also continues to participate in weekly calls with the Deputy Minister and the other school board/trustee associations. School boards were notified at the end of June with revised timelines to submit their school year calendar information to the ministry.
Student Transportation
The Ministry of Education recently released a consultation document entitled Student Transportation Consortia Model and Operations: Discussion Guide. OPSBA's Policy Development Work Team will be convening soon to discuss the guide and prepare a response. OPSBA will also connect with COSBO about their approach to responding to this consultation that has a deadline of July 31, 2020.
Other information