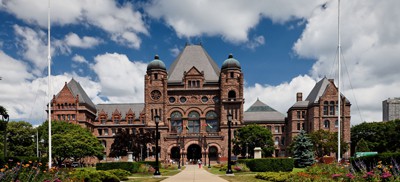 MPPs met March 25 to allow the Minister of Finance, Rod Phillips, to release the March 2020 Economic and Fiscal Update in the Legislature. Just 28 MPPs were in the Queen's Park chambers to debate the bill which also received Royal Assent. The house is now adjourned until April 14 — the same date the government would require legislative approval to extend the state of emergency beyond 28 days.
Ontario's Action Plan: Responding to COVID-19 (March 2020 Economic and Fiscal Update)
The Minister of Finance outlined the province's plan to respond to COVID-19 with the accompanying legislation Bill 188, Economic and Fiscal Update Act, 2020. The plan includes many measures to directly support the health care system, but also to provide assistance to families and communities. Directly impacting school boards is the temporary action of providing:
"Over $1.8 billion by deferring the upcoming June 30 quarterly municipal remittance of education property tax to school boards by 90 days, which will provide municipalities the flexibility to, in turn, provide property tax deferrals to residents and businesses, while ensuring school boards continue to receive their funding."
Property taxes support the education system and the provincial government provides additional funding up to the levels established by the funding formula. Municipalities collect the education portion of property taxes for the school boards in their communities and disperse this to school boards in quarterly payments. We realize school boards also experience cash flow challenges.  OPSBA has connected with the ministry and they will ensure that boards will be kept whole without impacting operations or budget decisions.
Other education-related components include:
a one-time payment of $200 per child up to 12 years of age, and $250 for those with special needs to help with costs due to school and daycare closures
giving students six extra months to pay off Ontario Student Assistance Program (OSAP) loans
As yet there has been no date set for the release of the 2020-21 Grants for Student Needs. The provincial budget that was to be tabled today has now been postponed until the Fall. Federal Finance Minister Bill Morneau has announced that the 2020 federal budget (which was to be tabled on March 30) will be delayed. The House of Commons is scheduled to meet next on April 20, 2020.
Full March 2020 Economic and Fiscal Update report
Bill 188, Economic and Fiscal Update Act, 2020
Coronavirus – COVID-19 – Continuity of Learning Update
The first phase of "Learn at Home," a new online portal that provides resources for families so students can continue to learn while schools are closed until April 6, has been launched by Minister of Education Stephen Lecce. The ministry and all stakeholders are well aware of the equity issues surrounding home technology and internet access, as well as special education considerations.  Needless to say, this is an extraordinary challenge and all parties are exploring methods for providing supports for all students. While the Premier did announce in his daily news conference on March 23 that "kids won't be going back to school on April 6," school boards have yet to receive formal notice of an extended closure from Minister Lecce and are continuing to plan for an extended closure or reopening. We anticipate that decision will be made some time next week. The two weeks will be used by boards and teachers to get ready to see what can be done if the closure persists. Continuity of learning is certain to vary significantly. Minister Lecce shared an open letter to parents on March 22.
The Ministry is conducting twice-weekly regular teleconferences with school boards via the Directors of Education, and OPSBA representatives are on these calls. In addition to contingency plans, this week's discussions included how the education sector might support the health sector. The Association will continue to post information on our dedicated coronavirus/COVID-19 webpage, including a March 23 message from OPSBA President Cathy Abraham.
Ontario enacted a declaration of emergency to help contain the spread of COVID-19 and protect the public. As a result, the following establishments were required to close:
all bars and restaurants, except to the extent that such facilities provide takeout and food delivery
all facilities providing indoor recreational programs
all public libraries
all private schools
all licensed child care centres
all movie cinemas
all theatres, including those offering live performances of music, dance and other art forms
all concert venues
all other non-essential workplaces
Additionally, all organized public events of over 50 people are prohibited, including parades, events and communal services within places of worship. These orders will remain in place until March 31, 2020, when the province will reassess for an extension or end the closures.
Many Ontario jurisdictions, including school boards, have now closed playgrounds, parks and other amenities where people have been gathering against the advice of public health officials. The Ontario government has a dedicated webpage with more information, which is updated with new case information every day at 10:30 a.m. and 5:30 p.m.
Collective Bargaining
On March 20, the OPSBA/CTA announced that it had reached a tentative agreement with the Elementary Teachers' Federation of Ontario (ETFO) for both teachers and education workers. All parties will conduct ratification votes in the coming weeks.
Other Information