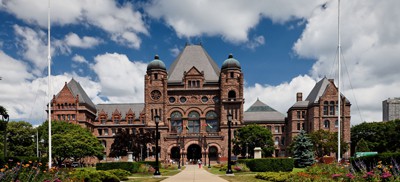 The Legislative Assembly of Ontario reconvenes on September 14, and for now, will follow the traditional sitting schedule of meeting Mondays to Thursdays. The parliamentary calendar also includes the fall constituency weeks.
September Return-to-School Plans
Many school boards saw their students return to school from September 7 to 11, with more returning the following week. Both the Premier and the Minister of Education have made comments in the media about publicly reporting COVID outbreaks in schools and on September 11, the Minister released information about an online webpage to report COVID cases in both schools and child care centres. The summative information includes the names and numbers of school-related cases, as well as student and staff cases. The information is similar to what was done for long term care facilities.
COVID-19 cases in schools and child care centres
In mid­-August, PPM 164 – Requirements for Remote Learning was released that provided definitions of "Remote," "Synchronous," and "Asynchronous" Learning, and outlined Remote Learning Requirements for School Boards. School boards are to ensure the requirements of PPM 164 are implemented by the beginning of the 2020-21 school year and are required to report at the end of the school year on their activities. OPSBA's Education Program and Policy Development Work Teams will be discussing the contents of this PPM at their upcoming meeting.
Ministry of Education Back to School news release
Minister of Education Back to School statement
Ontario's Financial Accountability Office
Financial Accountability Officer Peter Weltman released a report on September 10 regarding the provincial and federal governments' pandemic response measures, including actions that affect education and schools. The report was commissioned by the Standing Committee on Finance and Economic Affairs.
Reciprocal Education Approach (REA)
On September 4, the Ministry of Education released information regarding the Reciprocal Education Approach that included Memo SB13, Updates to: Reciprocal Education Approach (REA) Instructions for First Nations and School Boards & Ontario Student Record (OSR) Guideline, 2000 (Revised 2020). OPSBA members support any actions that enhance the educational opportunities and equity of outcomes for Indigenous students and help these students, their families and their communities and fully support the ability of Indigenous parents to choose the schools that best meet the needs of their children.
Other supporting documents included:
Student Information Report (SIR) – an excel form to register all eligible students attending a First Nation or federally-operated school under the REA.
Fetal Alcohol Spectrum Disorder
On September 9, Minister of Children, Community and Social Services Todd Smith announced an extra $3 million annually to support people with Fetal Alcohol Spectrum Disorder. The funding is to hire 26 FASD support workers, run workshops for families, and improve training to give service providers a better understanding of the disorder. Minister Smith made the announcement on International FASD Awareness Day, which was September 9.
Ministry of Education – Financial Memos
Other News Releases and Information