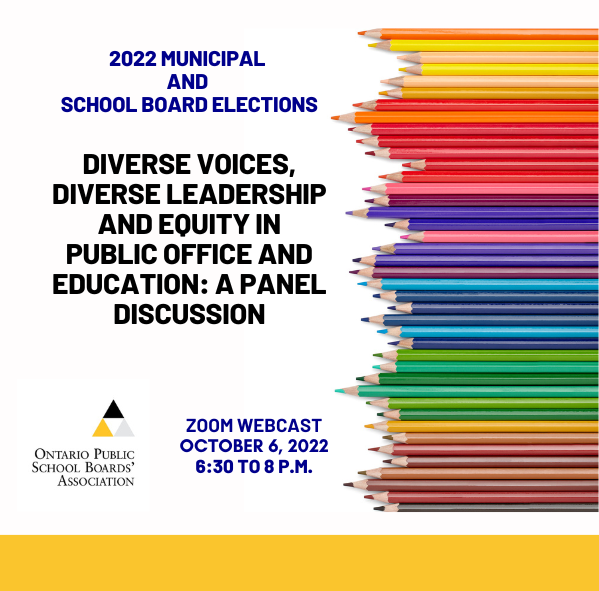 On Thursday, October 6 from 6:30 to 8 p.m., the Ontario Public School Boards' Association (OPSBA) hosted a panel discussion on Zoom, moderated by Globe and Mail education journalist Caroline Alphonso, and featuring the following elected and formerly elected officials:
Peggy Nash, former MP – Parkdale-High Park

An advocate for labour rights and social justice in Canadian politics and the labour movement, Ms. Nash was a long-time senior negotia­tor for the CAW (now Unifor). A former president of the federal New Democratic Party, she was a candidate for leader after the untimely death of Jack Layton. A candidate in several federal elections, she served as a Member of Parliament and was named Official Opposition Industry and Finance Critic. Nash is an educator, a frequent media commentator, a founding member of Equal Voice, and a co-founder of Ryerson University's Women in the House program.

 

Suzanne Nurse, former Trustee – Peel District School Board

Suzanne Nurse and her husband have been Brampton residents for almost 30 years.  Her love for education and advocacy led her to successfully run for Trustee with the Peel District School Board. She served for 12 years, four years of which were as Vice Chair of the Board. During her tenure, she served on various committees including curriculum review, special education, physical planning, and as an OPSBA representative. Although she is now retired from the board, Suzanne remains involved with education through various community groups and scholarship programs.  In addition to her position as National Administrator for Ministers Network Canada, Suzanne currently serves on the Board of Directors of Rapport Youth Services and Rising Angels (an organization dedicated to helping women escape sexual exploitation).  

 

Kristin Murray, Mayor, City of Timmins

Mayor Kristin Murray was elected as a City Councillor in Timmins in 2018, and she was appointed Mayor of the City of Timmins in August of 2022.  Kristin was born and raised in Jane and Finch in Toronto, and her family later moved to the small northern Ontario town of Chapleau. In 2001, she moved to Timmins from Chapleau to attend post-secondary studies at Northern College, obtaining a dual diploma in Social Service Work and Drug and Alcohol Counselling, later attended St. Francis Xavier University where she studied Leadership. Kristin recently completed a Bachelor's degree in Equity, Diversity, and Human Rights from Laurentian University. Over the years she has lent her skills to many organizations and community groups, most recently as the Equity & Diversity Lead Program Supervisor for North Eastern Ontario Family and Children's Services. Kristin lives in Timmins with her two daughters, Keenyah and Nylah. She is an avid nature lover and promoter of all things northern, and her favourite thing about Timmins is spending time in her community's outdoor spaces.

 

Steve Anderson, Deputy Mayor, Town of Shelburne

Mr. Anderson is the Deputy Mayor for the Town of Shelburne and a Regional Councillor for the County of Dufferin. In addition, he is a Senior practicing litigation lawyer with over 17 years of experience with the Toronto Transit Commission (TTC) where he has received several awards for his distinguished service. Deputy Mayor Anderson has extensive community experience that includes serving as the former Vice-President for the Ontario College of Kinesiology, Board Member for Community Care Access Centre (CCAC), Citizen Appointment for the City of Brampton Task Force. Deputy Mayor Anderson currently serves as a Board Member for the County of Dufferin and the Town of Shelburne's Diversity and Inclusion Committee. He also serves as Director for Defence Construction Canada.

Steve has recently added the title of Author with the highly anticipated release of his first book: Driven to Succeed that chronicles his journey growing up in the "infamous Jane and Finch community to becoming the first elected Black Deputy Mayor for the Town of Shelburne and Councillor for the County of Dufferin."

Steve is a strong believer in family and is a proud father of two children Asia and Devante.

 

Caroline Alphonso, Education Reporter, Globe and Mail
Moderator

Caroline Alphonso is The Globe and Mail's education reporter, specializing in kindergarten to Grade 12. Her areas of interest include education policy, the intersection of politics and education, changes in curriculum and the impacts of socioeconomic status on schooling. In 2014, she was part of a team nominated for a National Newspaper Award for a series that measured and analyzed the impact of income inequality in Canada. When she is not reporting, you can find her at a local hockey arena cheering on her two young children.

 
This panel was hosted in support of OPSBA's ongoing work and commitment to Equity, Diversity and Inclusion in all areas of the education system, including the democratic elections of school board trustees.
For more information, contact OPSBA staff at inquiry@opsba.org.
Background
Throughout 2022, OPSBA has been working with the Ontario Education Services Corporation (OESC) on a number of initiatives, including the Making A Difference: Running for Election as a School Board Trustee guide, a series of election information posters, and most recently, Your Guide To Hosting A School Board Trustee All Candidates Meeting. Moreover, several OPSBA senior staff are contributing as writers for the updated Good Governance Guide 2022-2026. We know this to be a valued resource for all trustees and are eager to share this revised version with the new term of school board trustees.
In addition, OPSBA has done much advocacy work this summer to promote the role of school trustee in advance. This has included:
Promotion for a dedicated promotional website to encourage Ontario residents to run for trustee, including a tool to subscribe to an email list that sent a number of follow-up emails to those who provided their address, encouraging them to apply to run for trustee. More than 2,100 individuals provided their emails through the tool. This promotion included Facebook, Instagram and Twitter advertisements targeted at demographics that may have been be interested in running for trustee. This website is being updated to feature content throughout September and October encouraging voters to get to the polls on Election Day, while also noting advance polling.
An op-ed from our President Cathy Abraham was published in the Toronto Star on July 27, 2022 – Want to help shape Ontario's public schools for the next generation? Run for school board trustee | The Star