West Ferris Intermediate & Secondary School's STEAM Program
​

Photo Credit: Courtesy of NNDSB

West Ferris Intermediate & Secondary School, has been fulfilling their motto of "Excellence in Education" for over 120 years.
Available to students in grades 9-12, STEAM, at West Ferris, encourages students to be innovative through opportunities to explore cross-curricular relationships between all core subjects. Fundamental principles in the program develop students' skills in problem-solving, analysis, experimentation, synthesis and communication.
The STEAM program has taken on several different names since its inception as the ST-21 program in 1992.  In 2005, ST-21 was transformed into the ST Wireless Program with the inclusion of laptops as the main learning tool.  In 2009, further enhancements included the shift to students using Apple MacBook Pro and iPod Touch.  In 2015, the program was rebranded as STEAM, and was recognized as an Apple Distinguished Program for 2015-2017.  During the 2016-2017 school year, West Ferris was recognized as an Apple Distinguished School for 2017–2019 for its exemplary work of the STEAM program.
​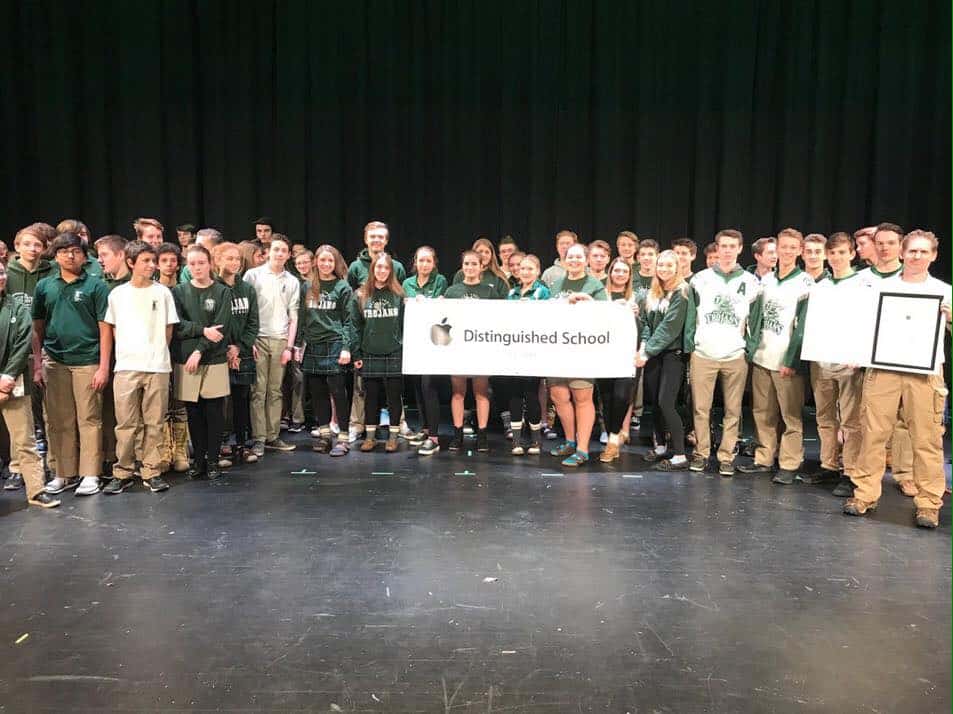 Photo Credit: Courtesy of NNDSB
"The selection of West Ferris as an Apple Distinguished School highlights our continued success as an innovative learning environment that engages students and provides tangible evidence of academic accomplishment," says Brent Yacoback, program coordinator for STEAM and Apple Distinguished Educator.
"Our STEAM students and teachers use Apple products on a regular basis, and strive to be technology leaders both within our school, and across our school district," said Ryan Culhane, lead teacher for STEAM and Apple Distinguished Educator.
Since 2017, STEAM students and staff have had the opportunity to showcase their teaching and learning throughout the Near North District School Board by putting on "Outreach" sessions.  These sessions give STEAM students the opportunity to demonstrate their mastery of technology, and leadership skills for students, staff and administration across the board.
Furthermore, Yacoback and Culhane have had the opportunity to speak provincially, nationally, and internationally about the structure of STEAM, programming, and the successes their students have had over the 27-year history of the program.
West Ferris Intermediate and Secondary School and the STEAM program continue to redefine "The Evolution of Learning".