Thames Valley Building Head of STEAM
​

Photo Credit: Courtesy of TVDSB
STEM Classroom B212 Saunders Secondary School: Mid-sized TEAM WORK
STEM is an acronym that refers to Science Technology Engineering and Math. Our STEM programs at Saunders Secondary and HB Beal Secondary schools give Grade 9 students the opportunity to delve into 21st Century issues outside the confines of a traditional classroom. With the guidance of qualified teachers, students simultaneously explore related topics by examining real-world issues through interdisciplinary project-based learning; they identify the issues and topics that matter to them, and then they conceive, design, and build potential solutions to these challenges.
What makes these programs unique?
The trans-formative learning experiences are designed to help our students grow both inside and outside of the classroom.
​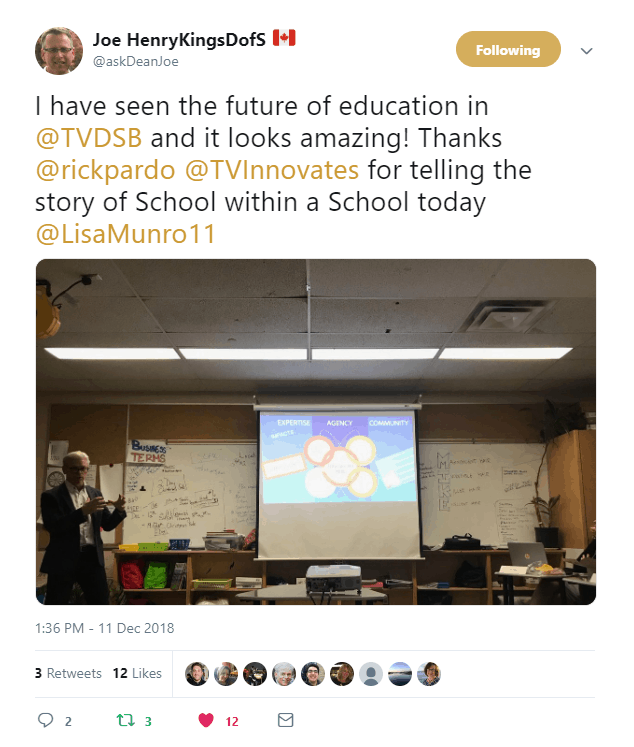 Photo Credit: Courtesy of TVDSB
These programs operate in a School-within-a-School format – No Subjects, No Periods, all day. Curriculum is combined and integrated, teachers team teach, students problem-solve their way to earning regular high school credits, and learning is integrated within the surronding community. Students experience daily learning in an academic setting, with access to outstanding research facilities, fully equipped science labs, and sustained access to technology. In addition, students have the option to take their projects to the next level, with access to specialized facilities, such as our Green Industries greenhouse, our Film Production Studio, our Construction shops, or our Digital Design studio, to name a few.
Which credits are earned?
BEAL Innovative Learning Project – BiLP (4 teachers working with 65-80 students earning 4 credits each)
❏ Grade 9 Academic or Applied Science ❏ Grade 9 Academic or Applied Math ❏ Grade 9 Academic or Applied English ❏ Grade 9 Academic or Applied Geography
SAUNDERS' STEM (5 teachers working with 65-80 students earning 5 credits each)
❏ Grade 9 Academic Science ❏ Grade 9 Academic Math ❏ Grade 9 Academic English ❏ Grade 10 Design Tech ❏ Grade 10 Enriched Civics (half credit) ❏ Grade 10 Enriched Careers (half credit)
How is this accomplished?
Qualified teachers in these subject areas work together to identify the principles, skills, and competencies, that are universal across their disciplines to create unique learning experiences. Overlapping concepts are taught concurrently through problem-solving and project-based learning.
The focus is on getting students to be curious, ask questions, explore, synthesize and create. Students are encouraged to take risks and make mistakes in a safe environment. Through problem challenges and project-based learning, students gain a well-rounded education focused on developing the skills necessary to be successful in the future. All learning is connected to current real-world issues, both globally and locally.
Community Partnerships
Thames Valley schools have strong community ties in London and surronding counties. We utilize partnerships with agencies such as TVDSB Environmental Education, TD Canada Trust, Fanshaw College, and University of Western Ontario to offer unique out-of class, real-world enrichment opportunities to each student.
What else will students get from this program?
In addition to course credits, students acquire the following skills: ● Creative Thinking ● Self-motivation ● Time Management ● Problem Solving ● Aptitude in Math and Reasoning ● Inquiry and Inquisitiveness ● Collaboration ● Independent Self-study
Where could these program lead?
Enrichment opportunities provided through the STEM and BiLP programs enables students to fast track Math or Science in Grade 10. Students are prepared to move on to either regular, enrichment or specialized Grade 10 courses upon completion of this program. These Grade 9 programs also expose students to methods and partnerships that might prepare them for careers in the following fields: Business, Design, Medical Research, Environmental Research or Engineering, Politics, Architecture, Robotics, Geo-technology, Film or Sound Production, Civil Engineering, Global Citizenship, and much more.
The average high school student in Canada will change careers 5 times in his/her life. The increase in global competition, digitization and robotization make this the new reality. In the face of such tremendous change, our students need different skills. Hence, education is no longer just be about "knowing", but requires the development of numerous other skills. These programs, offered in the first year of high school, build the skills, ability and confidence that students will need to learn whatever is coming their way.
VIDEOS:
Students' Comments on the Process
Learning for Everyone
Student Learning Projects
Innovation and Creativity Comments from Adults
Student Sample – Create My Own Tea Company