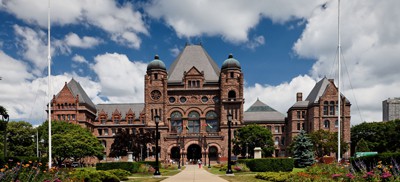 MPPs are scheduled to meet April 14 to obtain legislative approval to extend the state of emergency. Other items may include pieces of legislation to move forward on previous announced initiatives, such as the six month extension of OSAP payments. OPSBA will monitor any legislation for education impacts. Beginning April 14, the legislative assembly will have to be recalled every 28 days to authorize the emergency extension.
Education Deputy Minister Memo regarding Construction Activity during COVID-19
Coronavirus – COVID-19: Electronic Meetings
Recent changes were made to Ontario Regulation 463/97 Electronic Meetings  to allow for school boards to be able to continue to meet during mandated school closures – this includes both committee and board meetings. The recent Minister's Order to extend the school closure expires May 3, so the transition period in the regulation now covers 60 calendar days after that date. Many boards have made decisions about upcoming meetings and in fact, some boards have already conducted electronic/virtual meetings. Others are still in the planning stages and are looking for support. We are currently surveying member boards about this and will share the information once compiled.
Coronavirus – COVID-19: Student Trustee Elections
OPSBA is currently connecting with the student trustee associations and the Ministry of Education about elections for those student trustee positions that are for a two-year term of office. The regulation governing this requires the election to be held no later than April 30. We are collecting information as to how many boards have already completed their elections, how many will have this done by the end of the month and how many may require an extension. The regulation does allow student trustees to be elected "directly' by students of the board and also "indirectly" by representative groups such as student councils.
Coronavirus – COVID-19: Continuity of Learning Update
On March 31, Minister of Education Stephen Lecce announced that all publicly funded schools would remain closed until May 1 for teachers and May 4 for students. Phase II of Continuity of Learning has been introduced, with implementation beginning on April 6. School boards have been making contact with their students and families, to assess how those students can be reached by their teachers. Many school boards are facilitating delivery of school board technology to students who do not have devices or internet access at home. Some boards are also offering free Wi-Fi access for students in school parking lots.
Ministry-hosted Brightspace webinars for teachers continue, and boards are encouraged to create similar programming for any resources they may choose to use. The ministry has provided recommended hours of student work per week based on grade level, and provided guidance on student assessment.
Conversations continue between the Ministry of Education and the Ministry of Colleges and Universities to ensure that all challenges related to student grades and admissions are addressed.
Collective Bargaining
On April 4, the OPSBA/CTA announced it had reached a tentative agreement with the Ontario Council of Education Workers (OCEW). All parties will conduct ratification votes in the coming weeks.
On April 8, the Ontario Catholic School Trustees Association and the Ontario English Catholic Teachers Association announced that their members had ratified the tentative agreement that was reached in March.
OHRC Right to Read Inquiry
The Ontario Human Rights Commission (OHRC) is continuing its Right to Read Inquiry during the COVID-19 pandemic. This inquiry was launched in October 2019 and has requested documents, data and information from eight English-language school boards and all 13 Faculties of Education in Ontario. The OHRC has stated that its continued engagements with school boards, the Ministry of Education and other education sector stakeholders may be delayed, as they focus on addressing strategies for students' continued learning in light of current school closures.
Thousands of students, parents, guardians, teachers, educators and other professionals have engaged with the OHRC through its online survey, four public hearings (Brampton, London, Thunder Bay and Ottawa), one community meeting (Kenora), three Indigenous listening circles (London, Thunder Bay and Kenora), organization submissions, emails, meetings, telephone calls, artwork, and social media. Community meetings planned for Barrie and Hamilton in April have been cancelled.
The online survey for students, parents and guardians will remain open until April 15, 2020, and the Commission continues to work on an online survey for educators and other professionals. It has encountered some delays and anticipates launching this survey in late April 2020.
Other Information