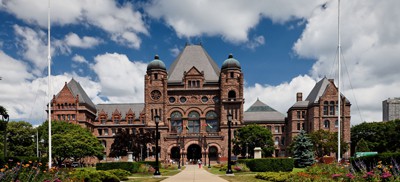 Members of Provincial Parliament will be at Queen's Park this week for four days before rising for winter recess after December 8.
REMINDER – OPSBA's PES Registration is open!
OPSBA's 2023 Public Education Symposium (PES) is being held January 26 to 28 at the Sheraton Centre, Toronto. We look forward to welcoming new and returning trustees in person! Register before December 12 to take advantage of Early Bird pricing! Also note that the hotel room deadline is January 6, 2023.
PES is OPSBA's premier professional development experience, where public school board trustees from across the province learn, collaborate and connect. This year's symposium's theme is Optimism and Opportunity. We have a number of exciting speakers scheduled, including Chief Cadmus Delorme (Cowessess First Nation), Roda Muse (Secretary General, The Canadian Commission for UNESCO) and Dr. Nicholas Christakis (Professor of Social & Natural Science, Yale University). We've developed workshops for new and returning trustees with topics such as Governance, Indigenous Learning, Equity Diversity & Inclusion, Communications and more!
OPSBA Advocacy Day – Monday, November 28, 2002
OPSBA's Advocacy Day was a tremendous success. Board of Directors members and student trustees spent the day at Queen's Park attending Question Period, meeting with their local MPPs, and participating in the evening reception. In total, OPSBA representatives met with over 50 MPP offices either in meetings or at the reception. This includes meetings with the Minister of Education, the two Parliamentary Assistants, and the education critics from the New Democratic Party, the Ontario Liberal Party and the Green Party of Ontario.
OPSBA prepared three handouts focusing on specific issues:
OPSBA and Nanos Research – New Data
OPSBA and Nanos Research has released new survey data regarding several public education issues ranging from education funding to curriculum, special education, equity, and governance. The associated report includes comparisons to OPSBA and Nanos' 2019 survey. A strong majority of Ontarians say a variety of education funding priorities are important with about nine in ten saying more funding is important/somewhat important for the maintenance, repair and renewal of schools, special education programming, and mental health supports, among other opportunities and supports. The results indicate that nine in ten Ontarians agree (61%) or somewhat agree (29%) that spending on public education is an investment in the future. This is consistent across all demographics.
The survey report was released during  a press conference at Queen's Park on OPSBA Advocacy Day, November 28. OPSBA President Cathy Abraham was joined by Elaine Johnston, Chair of the Indigenous Trustees' Council, First Vice-President Kathleen Woodcock, Second Vice-President Kathryn Pierroz, and Nik Nanos of Nanos Research.
READ THE EXECUTIVE SUMMARY
READ THE FULL OPSBA/NANOS SURVEY REPORT
Recent Legislation
Bill 53, Right to Timely Mental Health and Addiction Care for Children and Youth Act
This legislation was introduced on December 1, 2022 by NDP MPP (Parkdale—High Park) Bhutila Karpoche. The bill would require that Ontarians under the age of 26 receive mental health and addiction help within 30 days of seeking it.
Current Status: First Reading
Bill 49, Early Years and Child Care Worker Advisory Commission Act, 2022
This legislation was introduced on November 28, 2022 by NDP MPP (Parkdale—High Park) Bhutila Karpoche. The bill would create an advisory commission to develop recommendations for supporting the childcare industry and its workers.
Current Status: First Reading
Bill 39, Better Municipal Governance Act, 2022
This legislation was introduced by the Minister of Municipal Affairs and Housing Steve Clark on November 16, 2022. The bill proposes to allow the province to appoint the chairs of the regional municipal councils of Niagara, Peel and York, while giving more new powers to the mayors of Toronto and Ottawa. OPSBA sent a letter outlining our concerns that include the speed of the housing development proposal and the impacts to school boards.
Current Status: Standing Committee on Heritage, Infrastructure and Cultural Policy
The Office of the Auditor General – Annual Report
Auditor general Bonnie Lysyk's annual report was released on November 30 and includes 15 Value-for-Money Audits. Some of the topics include: Financial Management in Ontario Universities; COVID-19 Vaccination Program and Ontario Energy Board: Electricity Oversight and Consumer Protection.
To view the news release, visit Annual Report Shows Need for Better Government Planning with Increased Transparency and Evidence-Based Decision-Making: Auditor General
Other News Releases and Information
November 30, 2022: Ministry of Education memo, Ministry Communications to District School Boards – November 2022
November 30, 2022: Memo SB35, Updates to: Reciprocal Education Approach (REA) Instructions for First Nations and School Boards
November 30, 2022: News release, Ontario Celebrating Outstanding Contributions of Volunteers
November 29, 2022: News release, Province Recognizing Outstanding Contributions from Ontario Colleges
November 28, 2022: News release, Ontario Moving Forward with Bold Action to Address the Housing Crisis
November 25, 2022: Memo, Revisions to Grade 6 Social Studies Curriculum to Strengthen Holocaust Education
November 2022 Newsletter, Office of the Ontario Ombudsman