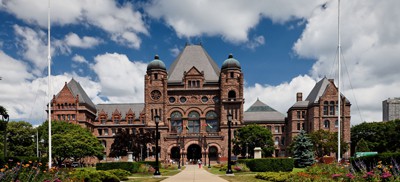 MPPs rose December 6, marking the end of the fall session. On December 7, the government issued a news release outlining the results of their accomplishments. The House is recessed for the winter break and is scheduled to return February 19, 2019, after Family Day.
Bill 66, Restoring Ontario's Competitiveness Act
On December 6, Economic Development Minister Todd Smith introduced Bill 66, Restoring Ontario's Competitiveness Act. The omnibus bill includes changes to 12 different ministries and proposes to change business regulations relating to toxic chemicals, employment standards, child care caps, safety in assembly plants, pawnbrokers, food safety testing, wireless cellphone contracts, agriculture, water extraction permits, wastewater treatment, private career colleges and more. OPSBA will review the proposed changes to the Education Act and the Child Care and Early Years Act.
Government News Release, "Ontario's Government for the People Cutting Red Tape to Help Create Jobs"
Bill 57, Restoring Trust, Transparency and Accountability Act, 2018
On November 15, Finance Minister Vic Fedeli delivered the provincial government's Fall Economic Statement, which outlines the government's plans for spending and fiscal restraint and was the government's first major financial update. The supporting legislation, Bill 57, was also introduced that day and includes 45 Schedules – changes or amendments to various Acts. Part of the announcement included the repealing of the Provincial Advocate for Children and Youth Act, 2007 and transferring the Advocate's oversight to the Office of the Ombudsman. It also proposes to raise the number of seats required for official party status with the new threshold being 10 per cent of the House, or 12 seats out of 124.
Current Status:Royal Assent was granted on December 6, 2018.
Bill 56, Keeping Students Safe on School Buses Act
This bill was introduced on November 14 by Liberal education critic Kathleen Wynne. If passed, the legislation would make seat belts mandatory on forward-facing school bus seats by 2020.
Current Status: Referred to the Standing Committee on Social Policy.
Bill 48, Safe and Supportive Classrooms Act
On October 25, Minister of Education Lisa Thompson introduced Bill 48, Safe and Supportive Classrooms Act. The legislation, if passed, would require teachers to pass a math test before getting licensed and would revoke teaching certificates from teachers disciplined by the profession's regulatory body for committing sexual abuse against a student or child. The Ministry also issued a separate news release, "Ontario Supporting Students with Special Needs" about the section in the proposed legislation concerning service animals. It indicates there will be an opportunity for stakeholders to "provide input on the policy directive that would be issued to boards." OPSBA will be sending in a submission regarding this legislation and our support for a consistent policy approach across the province. We have surveyed our boards and many have either a policy or procedure in place while others review on a case-by-case basis.
Current Status: Second Reading
Bill 47, Making Ontario Open for Business Act
This bill is the government's labour legislation and it was introduced on October 23 by Todd Smith, Minister of Economic Development, Job Creation and Trade. OPSBA sent a brief submission to the Standing Committee on Finance and Economic Affairs on November 14, 2018. Our submission focused on the changes to the apprenticeship ratio and our advocacy for skilled trades. Royal Assent was granted on November 21, 2018.
Current Party Standings – 124 seats
Progressive Conservative Party of Ontario – 74
New Democratic Party of Ontario – 40
Ontario Liberal Party – 7
Green Party of Ontario – 1
Independent – 2
2019-2020 Education Funding Engagement Guide
The Ministry of Education has released details regarding the 2019-2020 Education Funding Engagement Guide. The four areas identified by the ministry for efficiencies are: Efficient Price Setting, Outcomes-Based Funding, Accountability and Value-for-Money, and Other Education Funding Efficiencies. Our submission will focus on the feedback from school boards regarding funding priorities, pressures, and concerns. The deadline for responses is December 14, 2018.
Pre-Budget Consultations
Finance Minister Vic Fedeli is launching the government's pre-budget consultation tour for the 2019 budget in North Bay on December 14. The Minister will travel across the province to gather input from the public and stakeholders on what the PC government's first spring budget should include. The Standing Committee on Finance and Economic Affairs has announced additional dates to hold public hearings in Toronto on January 15 and 29, 2019; and in Dryden, Timmins, Ottawa, Sarnia, Kitchener-Waterloo, and Peterborough during the week of January 21 and on January 28, 2019. OPSBA has traditionally shared its Grants for Student Needs (GSN) submission with this committee.
Provincial Education Reform Consultation
OPSBA has shared with its members a resource document intended to help individuals and school boards when completing the online submission and/or the online survey and participating in the telephone town hall meetings. The points of information under each topic include evidence-based information and past position statements. OPSBA will be sending in a submission to meet the deadline of December 15, 2018.​