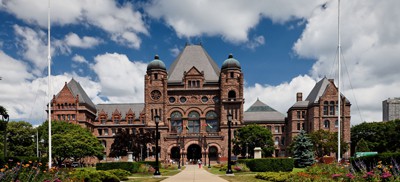 The Legislative Assembly of Ontario is on winter recess with Members of Provincial Parliament returning on February 22, 2022.
COVID-19 Update / Return to School Winter 2022
Due to Ontario's latest case and contact management guidance, updates to the provincial COVID-19 cases in schools webpage are currently suspended.
On January 6, Minister of Education Stephen Lecce released a statement announcing accelerated booster doses for education and child care workers, which OPSBA had previously requested. Starting January 7, these staff in the Greater Toronto Hamilton Area will have planned access to vaccines at the International Centre in Mississauga. Minister Lecce stated that the government is working with all other public health units to urgently set up more clinics across Ontario. This is in addition to existing vaccine clinics with dedicated access for education and child care staff, including, for example at CHEO in Ottawa, and select City of Toronto run clinics. Eligible staff are encouraged to book their appointment through the Provincial Vaccine Booking Line at 1-833-943-3900. The statement also includes information about Child Care Safety Measures and Emergency Child Care Eligibility.
In-person classes for the vast majority of Ontario students have been suspended until at least January 17, with classes pivoting to remote learning, following the government's announcement on January 3, that Ontario would be temporarily moving to a Modified Step Two of the Roadmap to Reopen until at least January 26. School buildings are permitted to open for child care operations, including emergency child care, to provide in-person instruction for students with special education needs who cannot be accommodated remotely and for staff who are unable to deliver quality instruction from home. This announcement followed an earlier December 30 press conference with Chief Medical Officer of Health Dr. Kieran Moore, in which he stated that schools would be opening to in-person learning on January 5.
In response, OPSBA released a statement on January 3, asking for action on four priority areas – vaccine doses for education workers and students, PCR testing access, PPE (including N95 masks), and support for adding COVID-19 to the list of designated diseases in Ontario Regulation 261/13 Designated Diseases under the Immunization of School Pupils Act (ISPA).
Recently released Ministry of Education memos include:
2022 Provincial Pre-Budget Consultations
The Standing Committee on Finance and Economic Affairs has released information regarding pre-budget consultations or public hearings across the province.  The Committee intends to conduct virtual meetings in the Northwest, Ottawa, Eastern Region, Greater Toronto and Hamilton Area, Southwest Region and Central Region of Ontario.
Information on how to request an opportunity to present to the Standing Committee has been provided and written submission are to be submitted by January 26, 2022. OPSBA will be submitting a modified version of its 2022-23 Education Funding/Grants for Student Needs (GSN) submission that was previously sent to Minister of Education Stephen Lecce in early December 2021.
OPSBA's 2022 Public Education Symposium
The Association's annual Public Education Symposium (PES) will occur virtually on Friday, January 28, 2022. PES is a high-impact professional development experience where public school board trustees from across the province can learn, collaborate and connect. This year's symposium will focus on the future of public education beyond COVID-19. School boards have felt the profound impact of the pandemic and are ready to look forward and support Ontario's students in our "new normal." We have a number of exciting speakers scheduled, including Randell Adjei (Ontario's First Poet Laureate) and Yale Professor and author Dr. Nicholas Christakis. For more information, visit our web at:  Public Education Symposium – OPSBA.
Municipal and School Board Elections 2022
The 2022 Trustee Determination and Distribution Guide is to be released in early 2022 and the Municipal Property Assessment Corporation (MPAC) will be creating Population of Electoral Groups (PEG) reports for all school boards in early February. OESC does have a distribution and determination tool to help with this process.
The upcoming year will be a busy one for Ontario voters, with the Ontario Provincial Election and Municipal and School Board Elections happening just a few months apart. We are encouraging all residents to ensure they are on the list to vote in the 2022 Municipal and School Board Elections on October 24, 2022. Ontario residents can visit Voterlookup.ca at any time to find out whether their information is accurately reflected for inclusion on the Preliminary List of Electors for the 2022 Municipal and School Board Elections. Eligible electors can also update their information, add a name to an address, or change their school support for electoral purposes.
Other News Releases and Information