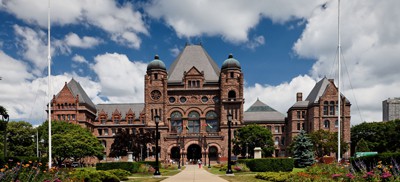 The Legislative Assembly of Ontario is on winter break and is scheduled to return on February 16, 2021, but could return a week earlier in order to extend the latest state of emergency declaration. On January 15, the Premier removed MPP Roman Baber (York Centre) from the caucus for opposing COVID-19 lockdown measures. He now sits as an Independent.
Current Party Standings – 124 seats:
Progressive Conservative Party of Ontario – 71
New Democratic Party of Ontario – 40
Ontario Liberal Party – 8
Green Party of Ontario – 1
Independent – 4
COVID-19 Update
On January 12, the Ontario government declared a second provincial emergency under s 7.0.1 (1) of the Emergency Management and Civil Protection Act (EMPCA). Emergency declarations last for 14 days after being made, and may be extended by Cabinet for a further 14 days. Thereafter, extensions require approval of the Legislature for additional periods of up to 28 days.
Effective January 14 at 12:01 a.m., the government issued a stay-at-home order requiring all Ontarians to remain at home with exceptions for essential purposes, such as going to the grocery store or pharmacy, accessing health care services, for exercise or for essential work. In addition to limiting outings to essential trips, all businesses must ensure that any employee who can work from home, does work from home. Additional restrictions and enforcement measures are described in the government's January 12 news release.
Schools and Child Care Centres
Schools in the following public health units (PHUs) will not return to in-person instruction until February 10:
Windsor-Essex
Peel Region
Toronto
York
Hamilton
By January 20, 2021, Dr. Williams will advise the Ministry of Education on which PHUs will be permitted to resume in-person instruction, based on the most up-to-date data and modelling. Before- and after-school programs can be offered when in-person instruction resumes. Schools in northern PHUs will continue to remain open. Child care centres for non-school aged children will remain open, and in areas where in-person elementary learning continues to be suspended, emergency child care will continue for eligible families.
In addition, the following new health and safety measures have been put in place for in-person learning:
Masking for Grade 1-3 and requirements for mask wearing outdoors (where distancing is not possible);
Enhanced screening protocols; and
Expanded targeted testing.
The following supporting documents have been issued:
Cases, Testing, and Vaccination
Due to virtual learning taking place across the province this week following the winter break, cases of COVID-19 in publicly funded schools were not reported in the past 14 days in southern Ontario schools. However, as of January 12, cases in northern schools are now being reported on the government's website once again.
Building on the efforts of the targeted testing in Phase 1, the Ministry of Education and the Ministry of Health will be working together with Ontario Health, PHUs and school boards to expand access to COVID-19 testing.
The rollout of Phase One of the government's vaccine implementation plan has a goal of ensuring that all residents, health care workers and essential caregivers at long-term care homes in the priority regions of Toronto, Peel, York and Windsor-Essex receive a COVID-19 vaccination by January 21, 2021.
On January 13, the government revealed that it plans to vaccinate up to 8.5 million Ontarians in Phase 2 of its vaccination plan, with teachers/education workers included in the list of "frontline essential workers." According to a graphic released by the government, essential workers who do not work at health care or long term care sites should start receiving vaccinations in February, before Phase 2 begins in April.
Autism Spectrum Disorder
On January 10, the government announced funding for training for teachers and educational assistants to support children with Autism Spectrum Disorder. The training program will be delivered by the Geneva Centre for Autism and is to begin this year.
OPSBA Public Education Symposium 2021
OPSBA's Public Education Symposium will be held as a virtual event on January 28, 2021 from 10 a.m. to 3:30 p.m. See the OPSBA website for more information.
OPSBA Speakers and Professional Development Sessions – Next Speaker February 11, 2021
OPSBA is continuing its plans to bring inspiring, informative speakers and virtual workshops through a series of speakers and PD sessions. Following the success of our first session in early December with guest speaker Sachin Maharaj, our next session will be on February 11 from 12 noon to 1:00 p.m. via Zoom. Our speaker will be Dr. Hayley Hamilton (Senior Scientist and Co-Head, Population Health, CAMH & Associate Professor, Dalla Lana School of Public Health). She will speak with trustees about mental health and well-being among students – pre-pandemic and the likely implications of the pandemic on student mental health. She will also discuss mental health among adults in general during the pandemic, talk about the challenges trustees and board staff are facing and speak about supports and coping. More information and a link to the meeting will be sent out in advance.
Other News Releases and Information