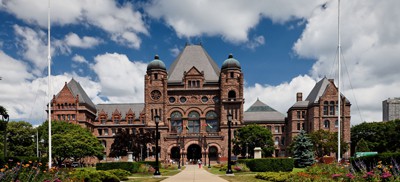 Members of Provincial Parliament were at Queen's Park this week for two days only, wrapping up a day earlier than planned. The house adjourned until September 14 — one week after the Labour Day holiday and the same day the fall sitting had been scheduled to begin before the pandemic. The government moved quickly on legislation by introducing time allocation motions. Both bills Bill 195, Reopening Ontario (A Flexible Response to COVID-19) Act and Bill 197, COVID-19 Economic Recovery Act cleared second and third reading debate and received Royal Assent on July 21. OPSBA's Education Program and Policy Development Work Teams sent a submission regarding Bill 197 on July 20. PC MPP Belinda Karahalios voted against Bill 195 — a move that got her removed from the PC caucus.
Current Party Standings
124 seats:
Progressive Conservative Party of Ontario – 72
New Democratic Party of Ontario – 40
Ontario Liberal Party – 8 
Green Party of Ontario – 1
Independent – 3
COVID-19 Update
On July 20, the government announced that more of Ontario moved into Stage 3 on July 24, with Toronto, Peel, and Windsor-Essex remaining in Stage 2. On July 16, the Ontario government, in consultation with the Chief Medical Officer of Health, extended most emergency orders currently in force until July 29, 2020. The federal government has also extended the non-essential travel ban at the Canada-USA border until August 21, 2020.
Other information