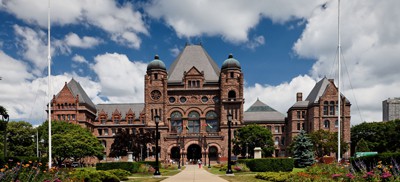 OPSBA issued a media release earlier today regarding the election results.
The Progressive Conservative Party of Ontario, led by Doug Ford, was re-elected in yesterday's provincial election, securing a majority government with 83 seats. The New Democratic Party of Ontario, led by Andrea Horwath, won 31 seats and will form the official opposition. The Liberal Party of Ontario, led by Steven Del Duca, captured eight seats. There was one successful independent candidate – Bobbi Ann Brady won in Haldimand—Norfolk. Mr. Del Duca was not elected in his riding, Vaughan-Woodbridge. Mike Schreiner, leader of the Green Party of Ontario, won his seat in the riding of Guelph. Both Mr. Del Duca and Ms. Horwath have announced they are stepping down as their party leaders. All former government cabinet ministers were re-elected. Elections Ontario has posted that the voter turnout was 43.03%.
Twelve seats are required for official party status in the legislature. With only eight seats, the Liberal Party remain without official party status and with that comes no funding for administrative staff and research activities, as well as designated time to speak in the legislature.
In the coming days and weeks, OPSBA will be contacting the new government to establish meetings to share and discuss education priorities. The time to form a new government varies and is typically two to five weeks.​ The current parliamentary calendar indicates the Legislative Assembly of Ontario will resume on Monday, September 12, 2022. OPSBA will continue to provide information and updates to members.
There were several trustee candidates in the provincial election and OPSBA congratulates those who were successful and will now become MPPs. We thank them for their contribution to public education. This includes:
Patrice Barnes, Durham DSB – PC Candidate (Ajax)
David Smith, Toronto DSB – PC Candidate (Scarborough Centre) 
Pre-Election Party Standings – 124 seats:
Progressive Conservative Party of Ontario – 67
New Democratic Party of Ontario – 38
Ontario Liberal Party – 7
Green Party of Ontario – 1
New Blue Party of Ontario – 1
Ontario Party – 1
Independent – 6
Vacant – 3 
Post-Election Standings – 124 seats:
Progressive Conservative Party of Ontario – 83
New Democratic Party of Ontario – 31
Ontario Liberal Party – 8
Green Party of Ontario – 1
Independent – 1 
For a full list of "unofficial" results for all 124 electoral districts, please visit Elections Ontario.​​  To also see the results from Student Vote, visit Student Vote election (different results).
OPSBA's 2022 AGM and Program: Re-Connecting and Making a Difference
The Association's 2022 AGM and Program is quickly approaching and staff are excited to see many trustees registered to be in Ottawa from June 9 to 11. Keynotes include: Forced Opportunity from Comedian "Brittlestar" Stewart Reynolds and Interpreting the Provincial Election Results – What's Next for Ontario? from national pollster and political analyst Nik Nanos. Panel and workshop topics are: Government Relations 101; Pandemic Recovery Through Student Voice; Sharing, Learning & Working Together (Indigenous Sharing Circle); Equity, Diversity, and Inclusion; and Running Successful Meetings.
Don't forget: Thursday night is the opening reception and team trivia hosted by Jennifer McIntyre and T.J. Goertz. Maximum Number of Players on a team is eight and teams must have representatives from at least two school boards and/or OPSBA staff.
For more information, visit the 2022 AGM and Program registration site (cvent.com). 
The Ontario Student Trustees' Association (OSTA-AECO)
OSTA-AECO hosted its Annual General Meeting and conducted elections for its senior positions. The next president of OSTA-AECO is Aisha Mahmoud, from the Hamilton-Wentworth DSB. Aisha was previously the Public Board Council (PBC) Vice-President. The incoming PBC President is Tiya Patel, from the District School Board of Niagara, and the incoming PBC Vice-President is Antong Hou, from the Ottawa-Carleton District School Board. These representatives are key contacts for OPSBA and the OSTA-OPSBA Liaison Committee. OPSBA also extends its thank you and best wishes to outgoing PBC President Jazzlyn Abbott from the Renfrew County DSB.
OPSBA and OSTA's PBC are also pleased to announced the winners of the Ontario Public Student Trustee Leadership Scholarship. Congratulations to Vandy Widyalankara from the Halton District School Board and Michael Yao from the Rainbow District School Board. The award recognizes outstanding achievement in a leadership role and is based on an outstanding initiative accomplished during the student trustee's term and how the initiative positively impacted the students in their board. More information about the scholarship can be found on the OPSBA Student Trustee page.
Other News Releases and Information