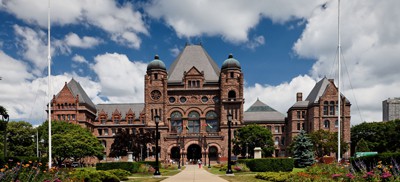 The Legislative Assembly of Ontario concluded the current session on June 14 after Bill 307, Protecting Elections and Defending Democracy Act cleared a third-reading vote (Ayes 63; Nays 47) and received Royal Assent. MPPs are now adjourned and return on September 13, 2021. On June 18, the Premier announced a cabinet shuffle that includes former Finance Minister Rod Phillips taking over the Long-Term Care portfolio from Merrilee Fullerton.
See the news release and the full list of appointments.
COVID-19 Update
Schools across Ontario continue to be closed to in-person learning until the end of the school year due to the COVID-19 pandemic, with the exception of some students in special education programs. Ontario is currently in Step 1 of the Roadmap to Reopen for at least 21 days. Key indicators to move to Step 2 include 70% of adults having been vaccinated with one dose, and 20% vaccinated with two doses. As of June 16 at 10:30 a.m., 75.2% of adults had received at least one dose, and 18.1% had received two doses and were therefore fully vaccinated. The move to Step 2 could happen as early as July 2. On June 17, the government announced, "Accelerated Second Dose Eligibility Continues Ahead of Schedule."
OSTA-AECO
OPSBA congratulates the new leaders of the Public Board Council (PBC) of OSTA-AECO. Jazzlyn Abbott of the Renfrew County DSB will be the President, and she will joined by Aisha Mahmoud of the Hamilton-Wentworth DSB as Vice-President. Many thanks are due to Mahek Dhaliwal of Thames Valley DSB and Zachary Garbaty of Grand Erie DSB, who served as President and Vice-President, respectively, for the challenging 2020-21 school year.
The Ontario Public Student Trustee Leadership Scholarship
OPSBA and the Public Board Council of OSTA-AECO are pleased to announce the winners of the 2020-21 Ontario Public Student Trustee Scholarship. This scholarship is based on an outstanding leadership initiative accomplished during the student trustee's term and how the initiative positively impacted the students in their board. Two scholarships, in the amount of $500 each, have been awarded to:
Fridaus Shallo, Toronto District School Board (TDSB)
Joy Liu, Ottawa-Carleton District School Board (OCDSB)
For more information, visit www.opsba.org.
Ontario's French Teacher Recruitment and Retention Strategy
The government has released its "four-year strategy" to strengthen French-language education and help address the French language teacher shortage by recruiting, training and retaining more teachers."
See the Ministry memo to school boards with additional details and the news release.
Reciprocal Education Approach
Ontario Regulation 261/19: Reciprocal Education Approach has recently been updated to increase equitable access for First Nations' students. A  June 11 memo from ADM Denise Dwyer includes links to the amended regulation tables and the list of Schools Eligible To Receive Funding Through The Reciprocal Education Approach (REA).
Other News Releases and Information