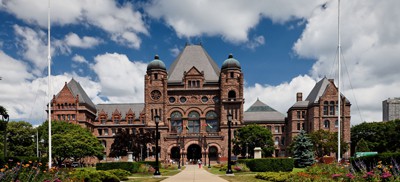 The Legislative Assembly of Ontario was in session this past week. The government's legislation Bill 60, Your Health Act, 2023, has passed Second Reading and was referred to the Standing Committee on Social Policy. MPPs will be back this week and then off for a constituency week that aligns with March Break. Candidate nominations for the March 16, 2023, Hamilton Centre by-election have closed, and a full list of candidates can be found on the Elections Ontario Candidate Search webpage. In total, 10 candidates and seven parties are running in this by-election. Advance voting begins on March 5 at the returning office and on March 8 at other locations until March 10. For more information, visit Elections Ontario.
The Ontario Liberal Party (OLP) annual meeting was held from March 3 to 5 in Hamilton, where elections were held for a new executive and the rules for their upcoming leadership contest were set. Former Liberal cabinet minister Kathryn McGarry was elected as OLP president.
Ontario Regulation 304: School Year Calendar, Professional Activity Days – this regulation has been amended to move the submission deadlines for regular and modified calendars to April 14, 2023. This change is for the 2023-2024 school year only.
Ontario Regulation 144/22: The 2022 Round Of Collective Bargaining – this regulation includes provisions for three-year collective agreements and also allows for the Minister to enact regulations to specify a term of two years, four years of five years. The Minister has followed that process and regulated a four year collective agreement for this round of bargaining (i.e. September 1, 2022 – August 31, 2026)
OPSBA Reminders
OPSBA 2023-2027 Strategic Planning Survey – All OPSBA members are encouraged to participate in this survey. The extended deadline is Monday, March 6, 2023, at 10 p.m. To access the survey, visit

Survey Monkey

 

OPSBA Policy Resolutions and Constitution/By-Law Amendments – OPSBA member boards wishing to submit Policy Resolutions and/or Constitution and By-Laws amendments for consideration at the 2023 Annual General Meeting are asked to do so by 4:30 p.m. on Wednesday, April 12, 2023. Please send completed forms to Lisa Reinhardt at inquiry@opsba.org.
Education Labour Relations and Human Resources Symposium 2023 – The Symposium will be held Thursday, April 27 and Friday, April 28, 2023 and registration is open. For more information, visit Labour Relations Symposium
2022-23 Public Property Assessment Network Scholarship
OPSBA's Public Property Assessment Network Scholarship will be awarded for one more school year. This Scholarship is awarded in the amount of $1,000 to one recipient in each of the Ontario Public School Boards' Association's (OPSBA) five regions, for originally three, now four, school years – 2019-20, 2020-21, 2021-22, 2022-23.
Scholarship recipients are students of strong character, leadership skills and potential, who care deeply about their communities and furthering their own learning. Each of OPSBA's regions has fine-tuned the eligibility and selection criteria that may be taken into consideration.
More information, with contact information and application guidelines, will be posted soon on the OPSBA website.
Other News Releases and Information