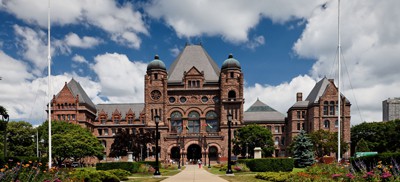 The Legislative Assembly of Ontario is in session.
New and Recent Legislation
Bill 88, Working for Workers Act, 2022
This proposed legislation was introduced on February 28, 2022, by Minister of Labour, Training and Skills Development Monte McNaughton. It contains five Schedules or changes to various Acts, including Schedule 2, Employment Standards Act, 2000. The changes to this particular Act would impose "a requirement on employers that employ 25 or more employees to have a written policy with respect to electronic monitoring of employees." This would apply to school boards. If approved and passed, employers would have six months to develop these policies in the first year.  OPSBA's Labour Relations Team will address this as an operational matter with senior negotiators among member boards.
Current Status: Referred to the Standing Committee on Social Policy on March 3, 2022
Bill 86, Our London Family Act (Working Together to Combat Islamophobia and Hatred), 2022
This proposed legislation was introduced on February 23, 2022, by the four London NDP MPPs: Faisal Hassan, Teresa J. Armstrong, Terence Kernaghan, and Peggy Sattler. The proposed bill includes nine Schedules including changes to the Education Act. The bill was drafted in collaboration with the National Council of Canadian Muslims, and the Liberals and Greens have already pledged to support it.
Current Status: Referred to the Standing Committee on Justice Policy on March 3, 2022.
Bill 84, Fewer Fees, Better Services Act, 2022
This proposed legislation was introduced on February 22, 2022, by Associate Small Business and Red Tape Reduction Minister Nina Tangri. It includes 11 Schedules or changes to various Acts, including Schedule 4 Fiscal Sustainability, Transparency and Accountability Act, 2019. The proposed change would allow the government to introduce this year's spring budget as late as April 30, effectively overriding a provision legislated by the government in 2019 requiring the finance minister to table the budget by the end of March or face a fine equal to 10% of their salary (with the same consequence for the premier).
Current Status: Royal Assent received on March 3, 2022.
Bill 67, Racial Equity in the Education System Act, 2021
This proposed legislation was originally introduced on December 2, 2021, by NDP MPP Laura Mae Lindo, who is the party's Anti-Racism Critic. This would be a new "Act to amend various Acts with respect to racial equity", including the Education Act. This past week it passed other legislative stages.
Current Status: Referred to the Standing Committee on Social Policy on March 3, 2022.
2022 Municipal and School Board Elections
OPSBA staff are preparing a "School Board Municipal Election Checklist" which will be shared with our members next week. This will include key dates and policies concerning the upcoming election. The Association is also currently finalizing its contact list of school board election staff and will be working with the Association of Municipal Managers, Clerks and Treasurers of Ontario (AMCTO) for distribution of materials to municipalities. OPSBA is also committed to sharing our election resources with a wide range of education partners, community groups and equity-seeking organizations. The OPSBA Municipal Elections webpage is being updated regularly and newly added is a slide deck prepared by the Ministry of Municipal Affairs and Housing for municipal clerks.
OPSBA is encouraging all residents to ensure they are on the list to vote in the 2022 Municipal and School Board Elections on October 24, 2022. Ontario residents can visit Voterlookup.ca at any time to find out whether their information is accurately reflected for inclusion on the Preliminary List of Electors for the 2022 Municipal and School Board Elections. Eligible electors can also update their information, add a name to an address, or change their school support for electoral purposes.
COVID-19 Update
The Government of Ontario launched its school closures and absenteeism webpage in January. As of March 3, two schools across Ontario were closed, which is 0.04% of all schools. A summary of school-by-school student and staff absences is provided, but it is not broken down by the reason for absence. Data is current as of 2 p.m. the previous weekday.
Ontario Human Rights Commission releases report from the Right to Read inquiry
The Ontario Human Rights Commission (OHRC) has released its Right to Read inquiry report on human rights issues affecting students with reading disabilities, calling for changes to Ontario's approach to early reading, in areas such as curriculum and instruction, screening, reading interventions, accommodations and professional assessments. According to the OHRC, "the inquiry found that by not using evidence-based approaches to teach students to read, Ontario's public education system is failing students with reading disabilities such as dyslexia, and other students." The report includes a number of recommendations to the Ministry of Education, school boards and faculties of education on addressing systemic issues the OHRC says affects the right to learn to read.
OPSBA responded with a public statement and will continue to review the recommendations in the report and work collaboratively with the Ministry of Education to support any curricular or structural changes that enable equity of access and outcomes for all students.
Final K-12 Education Standards Development Committee released regarding accessibility in public education
The K-12 Education Standards Development Committee has released its final report. Lynn Ziraldo, Chair of the Committee, stated in a letter to Minister for Seniors and Accessibility Raymond Cho that the feedback received on the Initial Recommendations Report, posted on the government's website from June to November 2021, provided extensive support for the initial recommendations, which she says emphasized the improvement of individual and systemic responses to barrier-free education. The recommendations contained in the Final Recommendations Report are "intended to be responsive to students with different and specific disabilities inclusive of low incident, invisible, episodic, and highly complex disabilities," she wrote. OPSBA will be reviewing the final report and will monitor government action on implementation, as it will directly affect school board operations and practices.
See the Ministry of Education's news release, Ontario Outlines Plan to Strengthen Reading Supports for Students.
See OPSBA statement regarding the OHRC Right to Read report
See OPSBA's response to the Initial Recommendations Report
Other News Releases and Information