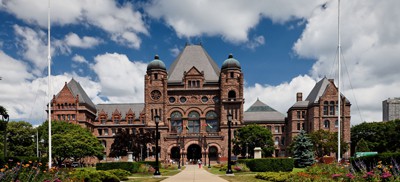 Members of Provincial Parliament (MPPs) have a constituency week from May 24 to 28 and return to the Legislative Assembly of Ontario on May 31 for four sitting days before they rise for summer recess.
COVID-19 Update
The provincial COVID-19 school-related case information webpage is not currently being updated due to the province-wide closure of schools to nearly all in-person learning.
Reopening
The Ontario government, in consultation with the Chief Medical Officer of Health, has released its Roadmap to Reopen, a three-step plan to reopen the province and gradually lift public health measures based on the province wide vaccination rate and improvements in key public health and health care indicators. In response to recent improvements to these indicators, Ontario will allow more outdoor recreational amenities to reopen, with restrictions in place, effective May 22, 2021 at 12:01 a.m.
The three steps to easing public health measures, which could begin as soon as June 14, include the following:
Step One: An initial focus on resuming outdoor activities with smaller crowds where the risk of transmission is lower, and permitting retail with restrictions. This includes allowing outdoor gatherings of up to 10 people, outdoor dining with up to four people per table and non-essential retail at 15 per cent capacity.
Step Two: Further expanding outdoor activities and resuming limited indoor services with small numbers of people where face coverings are worn. This includes outdoor gatherings of up to 25 people, outdoor sports and leagues, personal care services where face coverings can be worn and with capacity limits, as well as indoor religious services, rites or ceremony gatherings at 15 per cent capacity.
Step Three: Expanding access to indoor settings, with restrictions, including where there are larger numbers of people and where face coverings can't always be worn. This includes indoor sports and recreational fitness; indoor dining, museums, art galleries and libraries, and casinos and bingo halls, with capacity limits.
The province wide emergency brake restrictions remain in effect while the province assesses when it will be moving to Step One of the roadmap with the Stay at Home order expiring on June 2, 2021. During this time, the government will continue to work with stakeholders on reopening plans to ensure full awareness of when and how they can begin to safely reopen. Additional details are provided in the government's backgrounder, Roadmap to Reopen.
Current Remote Learning Period
Despite the Roadmap to Reopen being released, no information has been provided to the public education sector regarding the remaining weeks of the school year. All publicly funded and private elementary and secondary schools in the province will continue to operate under teacher-led remote learning for the time being. Provincial and local medical experts, including the Chief Medical Officer of Health and other public health officials, will be consulted and use the most recent and relevant data to determine if it would be safe to resume in-person learning.
Memo from the Ministry of Health about next steps to support the vaccination of children 12+ in Ontario
Recent and Current Legislation
Bill 299, Anti-Asian Racism Education Month Act, 2021 – This private member's bill was introduced by PC MPP Vincent Ke on May 20, 2021. The legislation would proclaim May in each year as Anti-Asian Racism Education Month.
Current Status: First Reading
Bill 298, Abuse Prevention Week Act, 2021 – This private member's bill was introduced by NDP MPP Mike Mantha on May 19, 2021. The legislation would declare the week following the first Sunday in October to be Abuse Prevention Week and establish an Abuse Prevention Framework Advisory Committee to provide recommendations to the Minister of Education.
Current Status: First Reading
Bill 297, Centering Youth in Pandemic Recovery Act, 2021 – This legislation was introduced by NDP Education Critic Marit Stiles and NDP MPP Jessica Bell on May 19, 2021. The legislation would require the government to develop and publish a Post-Pandemic Child & Youth Action Plan and review the plan every two years.
Current Status: First Reading
Bill 288, Building Opportunities in the Skilled Trades Act, 2021 – This legislation was introduced by Labour Minister Monte McNaughton on May 6, 2021. Proposed amendments include establishing Skilled Trades Ontario, a new Crown agency to replace the Ontario College of Trades and to "streamline" apprenticeship training. OPSBA will be sending in a brief letter outlining our support for continuation and expansion of experiential learning opportunities for students in our schools.
Current Status: Referred to the Standing Committee on Finance and Economic Affairs
The Ontario Public Student Trustee Leadership Scholarship – Deadline May 24, 2021
The Ontario Public Student Trustee Leadership Scholarship is an award jointly provided by the Ontario Public School Boards' Association (OPSBA) and the Public Board Council of OSTA-AECO. The intent is to recognize outstanding achievement in a leadership role and provide financial support to a graduating public board student trustee to assist with their post-secondary education plans (University, College, or Apprenticeship). This scholarship is based on an outstanding initiative accomplished during the student trustee's term and how the initiative positively impacted the students in their board. Two scholarships, in the amount of $500 each, will be awarded.
Other News Releases and Information