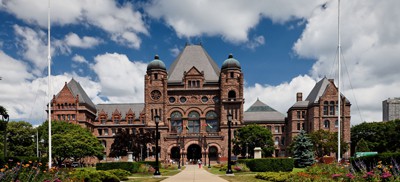 Members of Provincial Parliament will begin a constituency week on November 9 and return to Queen's Park on November 16. The final sitting day before the Winter Recess is December 10, 2020 – leaving 16 sitting days.
Provincial Budget
On November 5, Minister of Finance, Rod Phillips delivered the provincial budget entitled, Ontario's Action Plan: Protect, Support, Recover. Educational highlights include:
The government will be lowering the education portion of property tax for industrial ratepayers but said this would not affect school board funding. This will amount to about $450 million less in taxes collected by the government.
Providing $380 million to parents through another round of payments, following the $378 million of funding in March of $200 per child up to 12 years old and $250 per child and youth with special needs up to 21 years old, through the Support for Learners initiative.
See OPSBA's Summary of Provincial Budget Highlights
Recent Legislation and Regulations
Bill 216, Food Literacy for Students Act, 2020
The private member's bill was introduced on October 19, 2020, by MPP Daryl Kramp (Hastings—Lennox and Addington). The legislation, if passed, would amend the Education Act, "to provide that curriculum guidelines shall require that courses of study be developed in experiential food literacy education and healthy eating for every grade from grade 1 through grade 12."
Current Status: Referred to the Standing Committee on the Legislative Assembly
Bill 172, Education Statute Law Amendment Act (Fetal Alcohol Spectrum Disorder)
This legislation was originally introduced on February 18, 2020, by Liberal MPP Kathleen Wynne. This began and passed Second Reading and was referred to committee. The bill, if passed, would require school boards to develop policies and guidelines regarding FASD and establish related training for teachers and early childhood educators.
Current Status: Referred to the Standing Committee on Social Policy
Teacher Hiring Practices – Policy/Program Memorandum DRAFT
With the revocation of Ontario Regulation 274/12: Hiring Practices on October 29, 2020, school boards have been directed to use an interim policy until a final Policy/Program Memorandum (PPM) is issued. On November 4, the Deputy Minister sent a memo requesting feedback from the sector on a draft PPM. OPSBA's Labour Relations staff are reviewing the draft PPM and will form a response with recommendations to the ministry that meets their November 20 deadline. It is important to note that OPSBA has provided several submissions with respect to changes to Regulation 274 and a significant number of those recommendations have been included in the Ministry's draft PPM. Once a final PPM is issued, boards will then be required to  "develop and post their own teacher hiring policies that align with the PPM and respect existing collective agreements."
COVID-19 Update
As of the morning of November 5, 914 cases of COVID-19 cases had been reported in publicly funded schools in the past 14 days. Of those cases, 525 are students, 81 are staff, and 308 are not identified. One of the 4,828 schools in the province is currently closed.
On November 3, the government released its new framework to combat the spread of COVID-19, saying in a release that "it ensures that public health measures are targeted, incremental and responsive to help limit the spread of COVID-19, while keeping schools and businesses open, maintaining health system capacity and protecting vulnerable people, including those in long-term care."
The framework categorizes public health unit regions into five levels: Green-Prevent, Yellow-Protect, Orange-Restrict, Red-Control, with Lockdown being a measure of last and urgent resort. Each level outlines the types of public health and workplace safety measures for businesses and organizations. These include targeted measures for specific sectors, institutions and other settings. Each public health unit will be classified according to current framework indicators. Final decisions on moving public health unit regions into the framework will be made by the government based on updated data and in consultation with the Chief Medical Officer of Health, local medical officers of health and other health experts, and will be reviewed weekly. As of November 7, the province will transition public health unit regions to the new framework. Going forward, the government will assess the impact of public health measures applied to public health unit regions for 28 days, or two COVID-19 incubation periods.
On November 2, Solicitor General Sylvia Jones tabled a report in the Legislature providing details of the emergency measures put in place by the province to attempt to stop the spread of COVID-19. The report focuses on the 47 emergency orders made between March 17 and July 24, 2020, when the Declaration of a Provincial Emergency was in effect under the Emergency Management and Civil Protection Act (EMCPA).
On October 30, the Minister of Education and the Deputy Minister sent a memo entitled, "Supporting School Board Operations for the 2020/21 School Year." The memo addresses a number of proposed regulation amendments aimed at supporting boards during the pandemic.
The ministry also shared an updated guidance document, Operational guidance: COVID-19 management in schools
See Ministry Memo
Other News Releases and Information