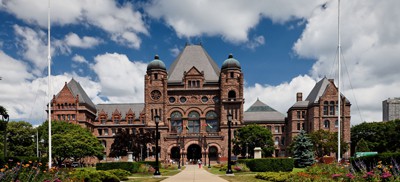 Members of Provincial Parliament returned to Queen's Park on October 25 to begin the fall legislative session.
This legislation was introduced on October 27, 2022, by Minister of Colleges and Universities Jill Dunlop. The bill aims to protect college and university students from sexual misconduct by faculty members. It would require publicly funded post-secondary schools to make sexual abuse of a student a cause for dismissal and forbid the use of non-disclosure agreements that may prevent a past incident from being disclosed if the fired faculty member seeks a job elsewhere. See the news release, Ontario Supporting Safe, Respectful Learning Environments for Postsecondary Students.
Current Status: First Reading
This legislation was introduced on October 25, 2022, by Municipal Affairs Minister Steve Clark. The bill proposes to reduce the costs incurred by builders from municipal fees and taxes and make it much easier to build 1.5 million additional homes over the next 10 years. See the news release, Ontario Taking Bold Action to Build More Homes .
Current Status: Second Reading
The Ontario New Democratic Party and the Ontario Liberal Party have issued a news release outlining their fall priorities.
See the NDP news release: It's time to fix the health crisis Ford left raging, and tackle the skyrocketing cost of living
See the Ontario Liberal Party news release: Healthcare, Affordability and Education Top the Ontario Liberals' Legislative Priorities
The Minister of Education has sent a memo about Ontario Regulation 463/97: Electronic Meetings and Meeting Attendance to school boards. The ministry is going to consult about exemptions for geographically large, northern and rural boards, but until then, "the physical attendance requirements in the regulation will again apply as of November 15, 2022."  We will be sure to connect with our members when details of this consultation are announced.
Municipal Council and School Board Elections – Thank you and Congratulations!
OPSBA thanks all individuals who put their names forward as candidates in the recent school board elections. Results are still being gathering from all municipalities with some official results posted on the OESC elections website. The Association of Municipalities of Ontario (AMO) has reported that the aggregate province-wide voter turnout in Monday's municipal elections was 33%. It was 38% in 2018.
REMINDER: Post Election School Board Inaugural/Organizational Meeting Date – The next term of office (2022-2026) begins for publicly elected school board trustees on November 15, 2022. A newly elected trustee does not officially take office until the board's inaugural/organizational meeting (within seven days of November 15, 2022) and a trustee swears a declaration as prescribed in the Education Act.
Many boards will be offering orientation information about the role and responsibilities of school boards and individual trustees. OPSBA suggests boards consider including the OESC Trustee Professional Development Program (online modules) as part of their orientation, in particular:
Also, earlier this week on the call between Minister Lecce and school board chairs, it was announced that the Ministry of Education will be offering additional Professional Development following the Osgoode Hall-led sessions on Human Rights. OPSBA will follow up for more details on timing.
Statistics Canada releases 2021 Census Data
On October 26, Statistics Canada released the sixth set of data from the 2021 Census, which provides an updated statistical portrait of the immigrant population. In 2021, more than 8.3 million people, or almost one-quarter (23.0%) of the population, were, or had ever been, a landed immigrant or permanent resident in Canada. This was the largest proportion since Confederation, topping the previous 1921 record of 22.3%, and the highest among the G7.
On the same day, Statistic Canada also released data providing a portrait of the country's religious and ethnocultural diversity. More than 450 ethnic or cultural origins were reported in the 2021 Census. The top origins reported by Canada's population, alone or with other origins, were "Canadian" (5.7 million people), "English" (5.3 million), "Irish" (4.4 million), "Scottish" (4.4 million) and "French" (4.0 million). In 2021, over 19.3 million people reported a Christian religion, representing just over half of the Canadian population (53.3%). However, this proportion is down from 67.3% in 2011 and 77.1% in 2001. Racialized groups in Canada are all experiencing growth. In 2021, South Asian (7.1%), Chinese (4.7%) and Black (4.3%) people together represented 16.1% of Canada's total population.
Other News Releases and Information