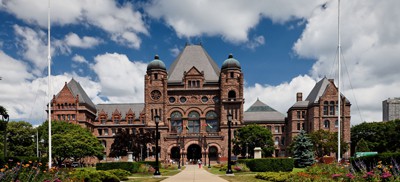 The Legislative Assembly of Ontario resumes October 28, 2019. MPPs will sit for a six-week-long fall session as the House is slated to rise for the winter recess on December 12. There's one constituency break on the parliamentary calendar for the week of November 11. With the Federal Election over and MPPs returning to Queen's Park, there have been many news releases since Monday – they are listed at the end of this update. 
Government Mini Cabinet Shuffle
On October 21, Premier Doug Ford announced a mini cabinet shuffle affecting three cabinet ministers. Labour Minister Monte McNaughton takes over the training portfolio from Colleges and Universities Minister Ross Romano. Tourism, Culture and Sport Minister Lisa MacLeod is taking on a new heritage file. 
Current Party Standings – 124 seats:
Progressive Conservative Party of Ontario – 73
New Democratic Party of Ontario – 40
Ontario Liberal Party – 5
Green Party of Ontario – 1
Independent – 3
Vacant – 2 
The two vacancies are due to the retirement of Liberal MPP Nathalie Des Rosiers (Ottawa—Vanier) and the resignation of Liberal MPP Marie-France Lalonde (Orléans). By-elections are expected to be held on the same day in early February 2020. 
Federal Election Results
In Ontario, the Liberals scored 41.5% of the popular vote compared to 33.2% for the Conservative Party, 16.8% for the NDP, 6.2% for the Greens and 1.6%  for the People's Party. Elections Canada reported Ontario's voter turnout for the federal election was 65.34%, not including those who registered on Election Day. In addition, almost 1.2 million elementary and secondary school students from 8,000 schools participated in Student Vote Canada 2019. 
National results from Elections Canada
Results from the Student Vote election 
Other Information
Upcoming: November 1 to 3, 2019.  The Green Party of Ontario will hold its annual convention at Centennial College Event Centre