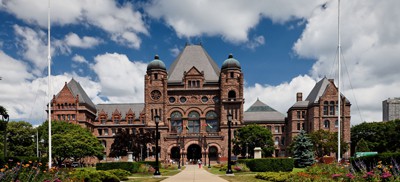 MPPs sat September 15 for a brief session of about 45 minutes to debate Bill 31, Efficient Local Government Act. This was followed by an early morning session to continue that debate before members adjourned the legislature to participate in the annual plowing event in Chatham-Kent. MPPs returned on September 19 and the government forwarded a time allocation motion to bypass the committee stage on Bill 31 and to put a time limit on third-reading debate. However, the debate and allocation were no longer required when a three-judge panel on Ontario's highest court granted a stay on the Bill 5 ruling. Government House Leader Todd Smith has said Bill 31 will remain on the order paper, but there is no plan to debate or vote on it. The nomination period for Toronto trustees and councillors re-opened September 20 and September 21, from 8:30 a.m. to 4:30 p.m.
On September 21, Ontario Minister of Finance Vic Fedeli and President of the Treasury Board Peter Bethlenfalvy released the 2017-2018 Public Accounts and stated the province has a $15 billion deficit.
Provincial Education Reform Consultation
Details regarding the consultations are expected this week. In late August, Premier Doug Ford and Education Minister Lisa Thompson announced that the consultations would expand beyond just the Health and Physical Education curriculum and seek feedback on the math curriculum; in-school job skills training; teaching financial literacy; improving standardized testing; and cellphone use in the classroom. The consultations are to take the form of online surveys, telephone town halls and an online submission platform. OPSBA will be reviewing the consultation document and its questions, and sharing information with members. OPSBA's Policy Development and Education Program Work Teams will take the lead on the Association's response.
Municipal and School Board Elections – New Resources
New Municipal and School Board Elections resources developed by OESC are now available. They include:
Electronic versions of the guide and the posters can be found on OESC's centralized School Board Elections website in both official languages: elections.ontarioschooltrustees.org.
Elections Ontario Social Media Campaign
Elections Ontario has launched a campaign on social media with the hashtag #DemocracyMatters, where they are asking people to think about why democracy is important to them, write it on a piece of paper, take a photo and upload it to social media using #DemocracyMatters.
For more information, visit Democracy Matters.
Elections Canada
In honour of Canada's Democracy Week, Elections Canada has launched a new website and suite of educational resources for secondary classes. The new resources are available for free in digital and printable formats at ElectionsAndDemocracy.ca