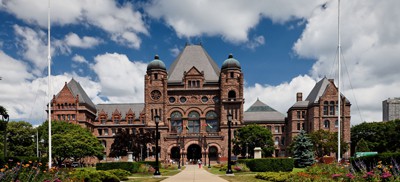 This update includes:
Update on Legislative Business for Week of March 27
Federal Budget
Ministry of Education – March Communications
Canadian School Boards' Association (CSBA) Update
Other News and Information
Legislative Business for Week of March 20
This week Sarah Jama (MPP Hamilton Centre) was sworn in and took her seat. Because Jama uses a wheelchair, Speaker Ted Arnott told the house she will be able to raise her hand instead of standing to vote. The legislature has also been outfitted with ramps to allow Jama to enter the chamber and take her seat in the front row of the NDP benches. This week, NDP Leader Marit Stiles also announced a revised critic portfolio list. Chandra Pasma (MPP Ottawa West—Nepean) remains the Education Critic, and Teresa Armstrong (MPP London—Fanshawe) becomes the critic for Child Care. New MPP Sarah Jama has been named the party's critic for Accessibility and Disability Justice, and Youth. The NDP's campaign review committee has released its post-mortem report on the party's election campaign last spring, which saw it lose nine seats.
Current Party Standings:
Progressive Conservative Party of Ontario: 81 members
New Democratic Party of Ontario: 31 members
Ontario Liberal Party: 8 members
Green Party of Ontario: 1 members
Independent: 2 members
Vacant: 1 (Kanata-Carleton)
2023 Canadian Federal Budget
On March 28, the federal Liberal government announced its 2023 Budget, including significant funding in a number of areas, including:
$171 million in 2022-23 to Indigenous Services Canada to help ensure First Nations children continue to receive support through Jordan's Principle.
Increasing Canada Student Grants for post-secondary students by 40%, and raising the interest-free Canada Student Loan limit from $210 to $300 per week of study.
Increasing limits on certain RESP withdrawals from $5,000 to $8,000 for full-time students, and $2,500 to $4,000 for part-time students.
Ontario's public education system is primarily funded through provincial government grants, thus the investments above are noted due to their potential impact on students, families, and communities in other important areas. The Canadian School Boards Association represents provincial school board/trustee associations in federal advocacy initiatives.
The Ontario government issued this statement, Ontario Responds to the Federal Government's Budget 2023.
Minister of Education Communications
The Ministry has issued a memo that summarizes March communications to school boards. This includes a correction to 2022-23 Reciprocal Education Approach (REA) Instructions for First Nation Partners and School Boards and a reminder for boards to submit their information, "on their implementation of remote learning and report to the ministry" as noted in Policy/Program Memorandum (PPM).
On March 30, the Ministry of Education informed school boards that the funding for the Tutoring Supports Program will be extended beyond the March 31, 2023, deadline with funds now being able to be used until the end of the school year.
Canadian School Boards' Association (CSBA) Update
The Alberta School Boards Association (ASBA) is pleased to host the Canadian School Boards Association (CSBA) Congress and National Gathering, which will be held from July 3 to 5, 2023, at the Banff Centre for Arts and Creativity. This year's Congress, Leading the Path Forward, offers opportunities for trustees to learn more about Indigenous education, school board governance, and equity, diversity and inclusion. More information is available on the Alberta School Boards Association's CSBA registration site.
 Other News Releases and Information