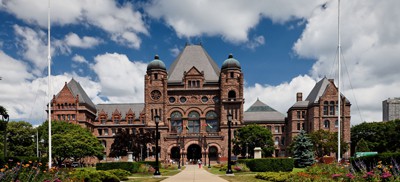 This update includes news about:
REMINDER: This week is Take Your MPP to School Day
Legislative Business for the Week of May 15
Bill 98, Better Schools and Student Outcomes Act, 2023  – Update
2023 Ontario Public Student Trustee Leadership Scholarship Winners
Other News and Information
We have asked OPSBA Board of Director members to locally lead this exciting initiative this week. Trustees are encouraged to use the Association's 2022 Advocacy Day materials and also share local information. A separate handout regarding Bill 98, Better Schools and Student Outcomes Act, 2023, has also been created to support discussions with MPPs.  Please remember to promote on social media using #MPPSchoolDay.
Legislative Business for Week of May 15
Members of Provincial Parliament (MPPs) were in session last week at the Legislative Assembly of Ontario, but will be off this week for a constituency week following the Victoria Day long weekend. Mitzie Hunter did resign her seat for the riding of Scarborough—Guildwood. Interim Liberal Leader John Fraser (Ottawa South) is taking on the Education Portfolio for the remainder of this session. This week also saw many government bills receiving Royal Assent including:
Bill 85, Building a Strong Ontario Act;
Bill 60, Your Health Act;
Bill 69, Reducing Inefficiencies Act (Infrastructure Statute Law Amendments);
Bill 71, Building More Mines Act; and
Bill 75, Queen's Park Restoration Act.
Two legislative reports were tabled:
A report entitled The State of the Environment in Ontario from the Office of the Auditor General of Ontario Bonnie Lysyk. In the report, Lysyk calls on the province to do more reports on the state of the environment, arguing Ontarians need more digestible information about environmental changes in order to better understand and judge the effectiveness of provincial environmental policies and hold governments to account for them. (The AG's term ends September 2, 2023).
Bill 108, Education State Law Amendment Act (Fetal Alcohol Spectrum Disorder)
This legislation was introduced on May 17, 2023, by Liberal MPP Ted Hsu (Kingston and the Islands). The bill proposes to require schools to have guidelines for supporting students with fetal alcohol disorder.
Status: First Reading
UPDATE : Bill 98, Better Schools and Student Outcomes Act, 2023
This legislation was introduced on April 17 by Stephen Lecce, Minister of Education. The bill proposes changes to the Early Childhood Educators Act, 2007, the Education Act, and the Ontario College of Teachers Act, 1996.  Last  week, the Standing Committee on Social Policy began its clausal review of the legislation, which will resume on Monday, May 29, 2023, at 9 a.m. It will then return to the House for Third Reading debate. The transcripts for the public hearings have not yet been posted.
2023 Ontario Public Student Trustee Leadership Scholarship Winners
The Ontario Public School Boards' Association (OPSBA) and the Public Board Council of OSTA-AECO are pleased to announce the recipients of the 2023 Ontario Public Student Trustee Leadership Scholarship. This scholarship is based on an outstanding leadership initiative accomplished during the student trustee's term and how the initiative positively impacted the students in their board. The intent of this scholarship is to recognize outstanding achievement and provide financial support to a graduating public board student trustee to assist with their post-secondary education plans, whether they choose to attend university or college or start an apprenticeship. The recipients are:
Isaiah Shafqat, Indigenous Student Trustee at the Toronto District School Board
Isaiah, the longest-serving Student Trustee in the province, successfully advocated for a mandatory Grade 11 Indigenous literature course to be implemented across Toronto's English public schools. Described as a "leader among leaders," Isaiah's academic, community service and leadership accomplishments are unparalleled. He maintained a 90% average while accumulating more than 700 hours of community service, volunteering to mobilize youth voting, plan 2SLGBTQIA+ Student Pride week (now annual), and events in support of advancing Truth and Reconciliation. This led to him recently being awarded the Lieutenant Governor's Award for Student Volunteering. Provincially, he is the Chair of the Indigenous Relations Committee at OSTA, and has a provincial profile as an advocate for Indigenous Education, evidenced by the fact that he was recently invited as an Ontario nominee to the Honouring Indigenous Peoples Youth-to-Youth program in Winnipeg. Isaiah will be attending Wilfrid Laurier University's Brantford campus in the fall to study law and human rights.
Kenzy Soror and Vaishnave Raina, Student Trustees at the Waterloo Region District School Board
Kenzy and Vaishnave worked and advocated together to create a new student election process that is now more accessible, transparent, equitable, and inclusive for present and future WRDSB students. This past February, every WRDSB secondary student directly voted for their representative in a board-wide election process for the first time in WRDSB history. Kenzy has been described as "instrumental" in the creation of two systemic changes, including the aforementioned election process as well as a new process for solicitation of the creation of more inclusive student feedback. In addition to creating a new election process, Vaishnave also ran the WRDSB's Student Mental Wellness Conference, Asian Heritage Day and student roundtables. Kenzy plans to attend the University of Waterloo and Wilfrid Laurier University for a "double degree" this fall in Computer Science and Business Administration. Vaishnave will attend the University of Waterloo for Geography and Aviation, with a dream of joining the Canadian Air Force as a fighter pilot.
Student trustees represent the voice of students in decisions about education and they help keep students informed about important decisions that affect them. They play an important role in the education governance process and are actively working at the local board and provincial levels on a number of initiatives.
Other News Releases and Information