Irma Coulson PS Hosts Unique Film Festival to Help Students Learn about Indigenous History
By Jason Misner
Irma Coulson Public School has been emphasizing Indigenous education for the last two years and held a unique film festival recently to honour what students have learned during this timeframe.
​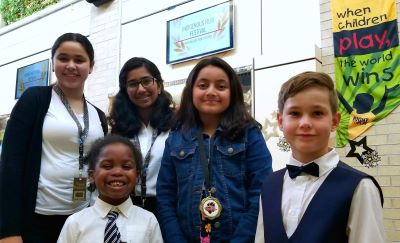 Photo Credit: Courtesy of Jason Misner, Halton DSB
Students in Kindergarten to Grade 8 showcased short films they created at the Milton school's first-ever Indigenous Film Festival on May 2, where families and members of the community were invited to watch selected videos.
For the past several months, students created storyboards and scripts – culminating in a video – to capture their understanding of Indigenous history. They worked in small groups to plan and develop their ideas. They also liaised with members of a media organization called Director's Cut to film and share their learning using different media techniques such as documentaries, movie trailers, voice-over films, breaking news and stop-motion animation.
The film festival helped the school "showcase the knowledge and understanding we have been gaining over the past two years through our work to build a greater understanding of Indigenous perspectives and to take the first steps towards reconciliation," says Rasha Balche, Vice-principal at Irma Coulson. "A group of dedicated Coulson educators have been involved in creating a film festival to celebrate our students and the amazing work they have accomplished to better understand our Canadian history, and current news and events from a variety of perspectives and voices that have traditionally been left out of the Canadian narrative."
The school has been working with various Indigenous leaders on this project including Indigenous elder Dr. Bob Phillips, Steve Paquette and Nancy Rowe. They participated in various activities including sharing circles, where they learned about contemporary issues facing Indigenous communities.
"We thought this would be a great opportunity to continue to build our knowledge of Indigenous perspectives and the need for reconciliation through teaching the history of Indigenous People in Canada," says Balche.
Students say they learned so much about Indigenous culture and history through this video project.
"Indigenous communities made social and economic choices, developed sustainable ways of living, undertook significant feats and created one of the most unique and respected civilizations in the world," says Shrute, in Grade 8.
Grade 8 student Ayaan's group talked about the challenges Indigenous communities faced to get access to basic education.
"When we understand Indigenous history, we become more welcoming, and we can reduce racism and bridge the world between Indigenous and non-Indigenous people."
Balche says the project connected strongly with the curriculum – including History, language and visual arts – and key school values such as promoting diversity and inclusivity.
"This type of festival is a great way to combine curriculum strands and to showcase our students' learning in a fun and exciting way. Also, by making it a school-wide project, we were able to engage all students in a learning opportunity they can share with each other. Through this process, our hope is that students will want to continue with this journey and find authentic ways to become allies to Indigenous people."