Anne J. MacArthur PS Students Create 40-foot Mosaic Reflecting Indigenous Land and Local History
By Heather Francey
​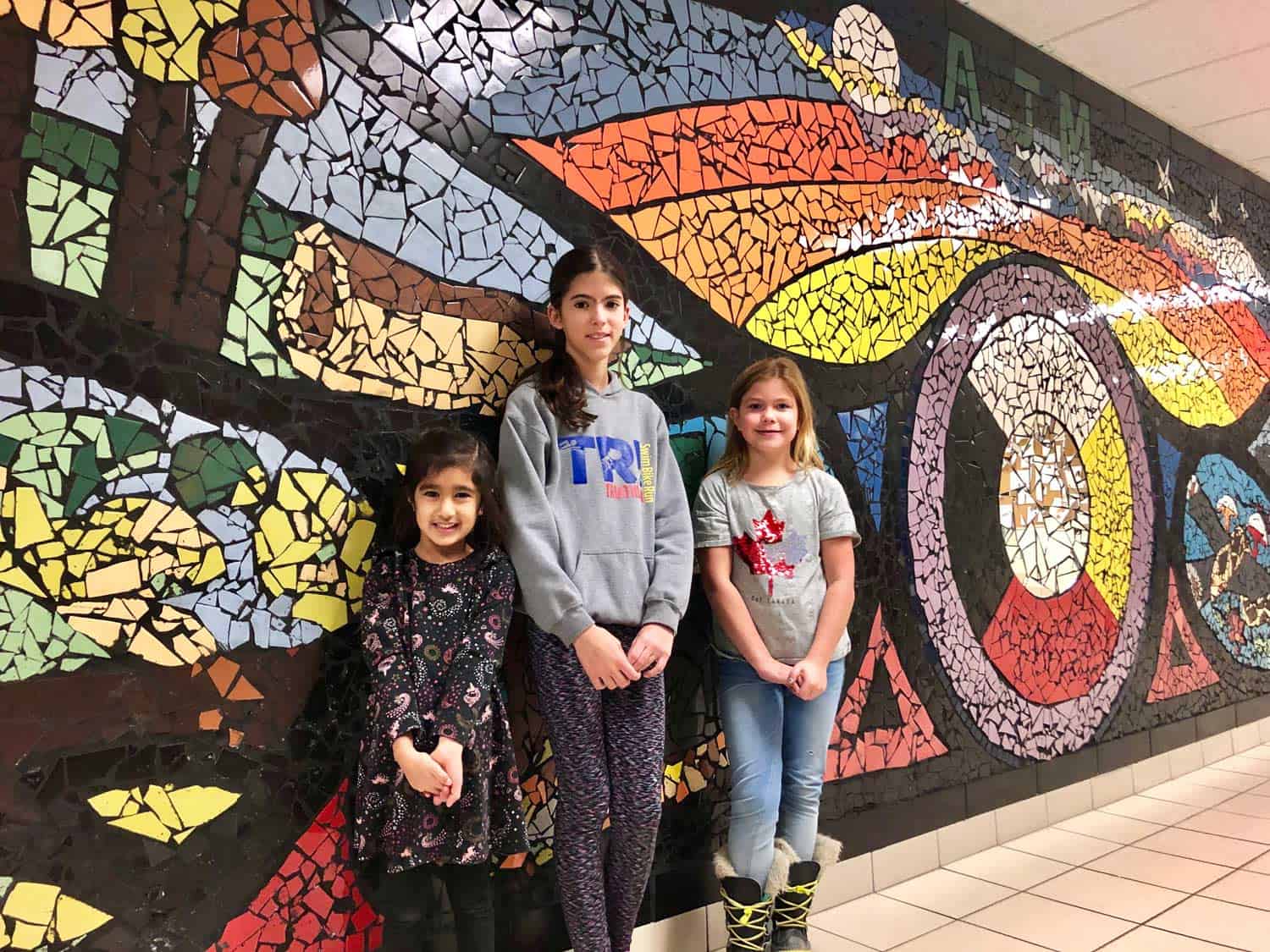 Photo Credit: Courtesy of Jason Misner, Halton DSB
Under the leadership of Métis artist Chantal Leblanc, students at Anne J. MacArthur Public School in Milton created a Territorial Acknowledgement Mosaic stretching nearly 40 feet down the main hall of the school.
The Territorial Acknowledgement Mosaic was unveiled at a ribbon cutting ceremony on December 5, 2018, with students, staff, parents and local dignitaries in attendance.
In September 2018, students visited Crawford Lake to learn about Indigenous culture and history in the area and sketch the landscape, plants and animals they came across. Using the students' sketches, Leblanc crafted a composition for a mosaic which was projected onto the wall in the school hallway. Students and staff spent many hours over the next few months piecing together the mosaic tile by tile. Students practiced following the lines of the drawing to place each individual tile.
Each student in the school contributed to the completion of the mosaic.
"Every piece is a special reflection into our Canadian landscape demonstrating respect for tradition, culture, history and truth," says Stephanie Walton, teacher at Anne J. MacArthur PS. "May this also be a true reflection of our community here at AJM."
The mosaic expresses the four seasons and four directions of the Medicine Wheel, along with the values of humility, honesty, respect, courage, truth, wisdom, and love. It is a reminder that life is an eternal circle. Leblanc hopes that when students pass the mosaic, they will be reminded to live by these teachings and values to ensure a better place for themselves and people that follow.
"Now each day as we walk through the hall, we get to remember how peaceful it was and who lived here before us," say Muaaz and Nidal, Grade 6 students at Anne J. MacArthur PS.
Made possible through a grant from the Ontario Arts Council, the project honours the school's namesake Anne J. MacArthur, the first woman on the Milton Town Council and an advocate for the environment and the protection of the Niagara Escarpment.
The mosaic project aligns with the Halton District School Board's commitment to equity and well-being in the Multi-Year Plan 2016-2020.
"Staff and students are pleased to be part of such a notable project which respects our Indigenous culture and honours the sacredness of our environment," says Cheryl Hayles, Vice-principal at Anne J. MacArthur PS. "As in the construction of the mosaic, when we each contribute a small piece toward respect for all living beings, we can create and ensure a beautiful world that we are all proud of."