Outdoor Teachings: Connecting Students to the Land
By Michelle Parrish, Keewatin-Patricia DSB
​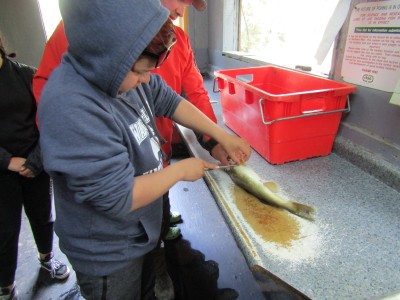 Photo Credit: Courtesy of Keewatin-Patricia DSB
As the 2018-2019 school year drew to an end, Keewatin-Patricia DSB (KPDSB) students enrolled in "Teachings from the Land" at Dryden High School (DHS) and Outdoor Education Class at Crolancia Public School were provided with the unique opportunity to travel to the Old Post on Lake St. Joseph.
Both courses were designed to include land-based teachings and experiences on the land with the intent to develop students' understanding of the significance of land and nature in both traditional and current activities. Educators Len Gardner, from Migisi Sahgaigan First Nation, Brent Labine, and Kayla Blakney gathered student voice in determining and prioritizing the activities and learning opportunities. In reflecting on the students' experiences, Len said, "It was amazing to see students connect to the land and participate in the highly interactive activities that have such a historical significance to First Nations people."
Old Post was a traditional meeting place for the Indigenous peoples of the area. For centuries, first the Cree, and more recently the Ojibwa, set up summer dwellings there to fish from Lake St. Joseph. Over the summer months, fishing and social gatherings took place before families left to tend their winter trap lines. Currently, the Mishkeegogamang First Nation people reside in the surrounding area.
​

Photo Credit: Courtesy of Keewatin-Patricia DSB
Although the classes are geographically separated by more than 400 kilometres of boreal forest and pristine lakes, the students quickly found common ground in the rich traditional activities planned over the three days. Students built shelters, foraged for food, fished and canoed. The experiential learning approach ensured both a successful and authentic learning experience for all. Chief David Masakeyash and Elders of Mishkeegogamang Ojibway Nation, were also present to impart the historical significance of the Old Post Lodge as the place that Treaty 9 was signed in 1905. After the teachings, everyone joined in a feast of walleye that was prepared, in part, by the students. This experience is one that will shape our students' understanding of who they are and help them to understand more deeply their shared history.
At the conclusion of the trip, students reflected on their learning and shared how their understandings had evolved as they completed their respective courses and the trip to Old Post. DHS student Jasmine Doudiet said, "It was awesome that we were able to canoe and fish waters that our ancestors did."
The KPDSB remains firmly committed to ensuring students continue having experiences that connect them to traditional First Nations land use and understandings.