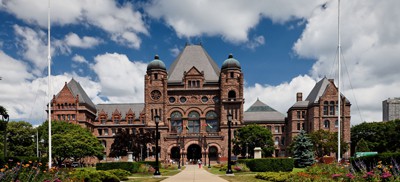 The Legislative Assembly of Ontario remains adjourned during winter recess with Members of Provincial Parliament returning on February 22, 2022.  Rod Phillips has announced his resignation as the Minister of Long-Term Care and will not be seeking re-election. The Premier issued a statement indicating Paul Calandra would take over that portfolio, along with his other duties as Minister of Legislative Affairs and Government House Leader.
Current Party Standings – 124 seats:
Progressive Conservative Party of Ontario – 69
New Democratic Party of Ontario – 40
Ontario Liberal Party – 7
Green Party of Ontario – 1
New Blue Party of Ontario –  1
Independent – 5
Vacant – 1
COVID-19 Update / Return to School Winter 2022
On January 20, Premier Doug Ford, Health Minister Christine Elliott and Chief Medical Officer of Health Dr. Kieran Moore released details of steps to ease public health measures, starting on January 31. The lifting of these public health measures will not directly impact the operations of public schools. Effective January 31, Ontario will begin the easing of restrictions, including but not limited to:
Increasing social gathering limits to 10 people indoors and 25 people outdoors.
Allowing spectator areas of facilities such as sporting events, concert venues and theatres to operate at 50 per cent seated capacity or 500 people, whichever is less.
Increasing or maintaining capacity limits at 50 per cent in indoor public settings, including but not limited to:
Restaurants, bars and other food or drink establishments without dance facilities;
Retailers (including grocery stores and pharmacies)
Shopping malls;
Non-spectator areas of sports and recreational fitness facilities, including gyms;
Cinemas;
Meeting and event spaces;
Recreational amenities and amusement parks, including water parks;
Museums, galleries, aquariums, zoos and similar attractions; and
Casinos, bingo halls and other gaming establishments
Religious services, rites, or ceremonies.
Enhanced proof of vaccination, and other requirements would continue to apply in existing settings. To view the remainder of the schedule to lift restrictions, please see the government's news release.
On January 21, the Ministry of Education released a collection of communications and information for school boards for the month of January 2022. It includes a memo, Ministry Communications to District School Boards, as well as information on Outstanding COVID-19 Transfer Payment Agreement Final Reports. There are a number of updates on items including SHSM applications, Trustee Distribution and Determination, and requests to specific boards for certain data collection. The memo also refers to future sector engagement, "on a variety of topics that may include mental health and the previously announced revision of Policy/Program Memorandum 81: Provision of health support services in school settings (PPM 81)." OPSBA will seek more information and timing about this.
Additional ministry memos and documents that have been released include:
REMINDER: OPSBA's 2022 Public Education Symposium – FRIDAY, January 28
The Association's annual Public Education Symposium (PES) will occur virtually this Friday, January 28, 2022. PES is a high-impact professional development experience where public school board trustees from across the province can learn, collaborate and connect. This year's symposium will focus on the future of public education in the face of COVID-19. School boards have felt the profound impact of the pandemic and are ready to look forward and support Ontario's students in our "new normal." We have a number of exciting speakers scheduled, including Randell Adjei (Ontario's First Poet Laureate) and Yale Professor and author Dr. Nicholas Christakis. Visit our website for more information at: Public Education Symposium – OPSBA
Other News Releases and Information