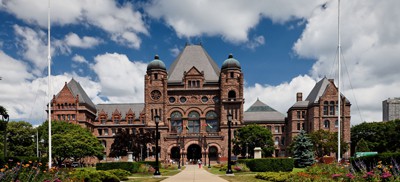 The Legislative Assembly of Ontario is adjourned until November 18, 2019, as MPPs are heading back to their ridings for a constituency week break.
Bill 124, Protecting a Sustainable Public Sector for Future Generations Act, 2019
Treasury Board President Peter Bethlenfalvy introduced this legislation on June 5, 2019, which caps public sector wage hikes to an average of 1% per year for the next three years. This legislation passed a third-reading vote on November 7 and has also now received Royal Assent. At the public committee hearing on November 4, a number of labour groups argued the legislation infringes on employees' collective bargaining rights.
2019 Fall Economic Statement
On November 6, Finance Minister Rod Phillips tabled his Fall Economic Statement legislation, Bill 138, the Plan to Build Ontario Together Act. The government is projecting a lower deficit of $9 billion in 2019-20 compared to the $10.3 billion that was forecast in the spring budget. Overall spending is forecast to go up to nearly $163.8 billion in 2019-20, which includes an extra $404 million for health care and $186 million for education, and also covers previous funding policy reversals/changes on municipal public health funding and the autism program.
The government's document (page 159) explains that the Education Sector expense has increased by $186 million in 2019–20 mainly due to:
An increase of $122 million to help municipal partners provide child care programs; and
An increase of $64 million to support elementary and secondary education programs.
OPSBA President Cathy Abraham was asked about this funding and her statement to the media was the following:
"We look forward to having more discussions with the government about any additional funding for school boards following the release of yesterday's Fall Economic Statement. We [the Ontario Public School Boards' Association] believe that strong and equitable education funding is essential for creating the conditions that promote and sustain student achievement and well-being. We will continue to make the case to the government that funding needs to be predictable and sustainable, and should allow for greater local flexibility to meet the unique needs of our members' communities."
Full document, 2019 Ontario Economic Outlook and Fiscal Review: A Plan to Build Ontario Together
Note: The full document is 218 pages and the Education Section begins on page 29.
Government news release, Ontario Government Beating Fiscal Targets While Investing in Priority Programs
Review of Peel District School Board
At the request of the Chair and Director of Education, Education Minister Stephen Lecce has announced his intent to launch an immediate review of the Peel District School Board to address concerns about equity and board governance, senior leadership issues, and human resources practices. The names of the reviewers will be announced in the coming weeks. Upon completion of the review, the reviewers would provide the Minister with recommendations.  Such reviews involve amending Ontario Regulation 43/10: Provincial Interest in Education.
Education Today
OPSBA's Fall 2019 issue of Education Today is now available online and focuses on Indigenous Education. The edition includes interviews with Minister of Education Stephen Lecce and Alvin Fiddler, Grand Chief of the Nishnawbe Aski Nation, as well as numerous articles from our member boards.
Other information
November 8, 2019 News Release – Ontario Increasing Investments in Skilled Trades
November 4, 2019 – Minister of Education Statement on Ratification of CUPE Central Agreement
November 4, 2019 News Release – Celebrating National Skilled Trades and Technology Week
November 4, 2019 – Statement from Premier Doug Ford re: 39th annual Holocaust Education Week