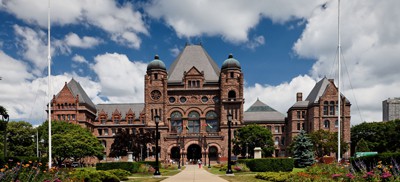 The Legislative Assembly of Ontario will resume in two weeks on Monday, October 4, 2021. House Speaker Ted Arnott has confirmed "everyone seeking to enter" the legislature will require either proof of vaccination or a recent negative COVID-19 test. The new rules will take effect the first day of the legislative session.
COVID-19 Update / Return to School Fall 2021
As of September 24, 1,372 cases of COVID-19 have been reported in publicly funded schools in the past 14 days. Of those cases, 1,203 are students, 158 are staff, and 11 are not identified. One of the 4,844 schools in the province is currently closed.
On September 22, the province's vaccine passport system came into effect. As of that day, Ontarians must be fully vaccinated (two doses plus 14 days) and provide their proof of vaccination along with photo ID to access certain public settings and facilities. This week, the Ministry sent school boards three memos:
The provincial government, based on the advice of the Chief Medical Officer of Health, is now cautiously easing capacity limits for select indoor and outdoor settings where proof of vaccination is required. Effective September 25, 2021, at 12:01 a.m., capacity limits will be increased in many of the indoor settings where proof of vaccination is required. Meeting and event spaces, such as banquet halls and conference/convention centres; sporting events; concerts, theatres and cinemas; racing venues (e.g., horse racing); and commercial and film television productions with studio audiences will be increased to up to 50 per cent capacity or 10,000 people (whichever is less) for indoor events. For certain outdoor event venues where patrons stand, capacity limits will increase to up to 75 per cent capacity or 15,000 people (whichever is less). For certain outdoor event venues where patrons are seated, capacity limits will be increased to up to 75 per cent capacity or 30,000 people (whichever is less). This is in recognition of the fact that the risk of transmission is lower because of reduced mobility around the venue. In addition, proof of vaccination will now be required in outdoor settings where the normal maximum capacity is 20,000 people or more to help keep these venues safe for patrons.
Trustee Code of Conduct Consultations 2021
As previously noted, the Ministry of Education has announced its plans for Code of Conduct consultations. There is an online public survey with nine questions and a regulatory posting that includes the minimum components in any future regulation. Both have feedback deadlines of November 1, 2021. OPSBA is encouraging all trustees to complete the online survey as it includes questions about the minimum components and the use of an Integrity Commissioner. OPSBA's President, Executive Director, and senior staff will be attending an October stakeholder meeting and the Policy Development Work Team will be responding with an official submission to the online survey and regulatory posting. This will be done with legal counsel support and advice.
OPSBA recently updated its Code of Conduct Template for member boards in 2019. It is important to note that many of the new proposed components of a Code of Conduct policy, are already considered in our template document.
Board Improvement and Equity Planning with Demographic Data
The Ministry of Education has shared information and resources regarding a new school board planning tool, the Board Improvement and Equity Plan (BIEP). The BIEP is, "a demographic data-driven tool designed to capture the experiences and outcomes of Indigenous students, Black and other racialized groups of students, students with disabilities and/or special education needs (non-gifted), 2SLGBTQ+ students, and students from low-income households." Boards are expected to be in the process of collecting voluntary student demographic data by September 2022.
See:
Reminder: National Day for Truth and Reconciliation: Thursday, September 30, 2021
This day of recognition was created by the federal government through the enactment of Bill C-5 in June to fulfill the 80th call to action of the Truth and Reconciliation Commission, which urges the creation of a statutory holiday to "ensure that public commemoration of the history and legacy of residential schools remains a vital component of the reconciliation process." It honours First Nations, Inuit and Métis residential school survivors, their families, and communities, as a vital part in the process of reconciliation. Traditionally, this date has been known as Orange Shirt Day. Guided by the OPSBA Indigenous Trustees' Council (ITC), OPSBA is highlighting the work of school boards in commemorating and honouring this day, and will also be making public statements leading up to September 30th, including a video segment from the ITC Chair.
Other News Releases and Information